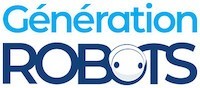 My Cart
0
item(s)
-
€0.00
There are no more items in your cart
Additional language for NAO robot
Allow your humanoid NAO robot to be understood by most of the world population! In an impressive way, NAO robot can speak 18 languages in addition to its default language, English.
Humanoid NAO robot Evolution can speak 19 languages!
The latest version of the NAO robot, NAO Evolution, comes with directional microphones improving its sound localisation. But what interest if the humanoid robot does not understand your language?
Do not worry, as a true polyglot, the programmable humanoid robot NAO is not only equipped with an engine of dialogue that is not limited to his native language. Like other robots of the Aldebaran brand such as its big brother Romeo, he has the ability to converse with people of different nationalities.
When buying NAO robot, bear in mind that the humanoid NAO robot is available by default in English and in your local language (or any language you choose).
List of languages available with the humanoid robot NAO Evolution
This table below shows the language codes, which is very useful when it comes to program NAO with Choreographe, the manufacturer software suite provided with your humanoid robot, and shows the available languages compatible with both the Next Gen and Evolution NAO robot.
| Code | Text To Speech | Speech Recognition |
| --- | --- | --- |
| Arabic | Arabic (Saudi Arabia) | Arabic (ARW) |
| Brazilian | Portuguese (Brazil) | Brazilian Portuguese (PTB) |
| Chinese | Chinese (Mandarin) | Mandarin (China) (MNC) |
| Czech | Czech | Czech (CZC) |
| Danish | Danish | Danish (DAD) |
| Dutch | Dutch (Netherlands) | Dutch/Flemish (DUN/DUB) |
| English | English (United States) | US English (ENU) |
| Finnish | Finnish | Finish (FIF) |
| French | French (Standard) | European French (FRF) |
| German | German (Standard) | German (GED) |
| Italian | Italian (Standard) | Italian (ITI) |
| Japanese | Japanese | Japanese (JPJ) |
| Korean | Korean | Korean (KOK) |
| Polish | Polish | Polish (PLP) |
| Portuguese | Portuguese (Portugal) | EU Portuguese (PTP) |
| Spanish | Spanish (Spain) | Castilian Spanish (SPE) |
| Swedish | Swedish | Swedish (SWS) |
| Russian | Russian | Russian (RUR) |
| Turkish | Turkish | Turkish (TRT) |
Customers who viewed this item also viewed