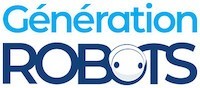 My Cart
0
item(s)
-
€0.00
There are no more items in your cart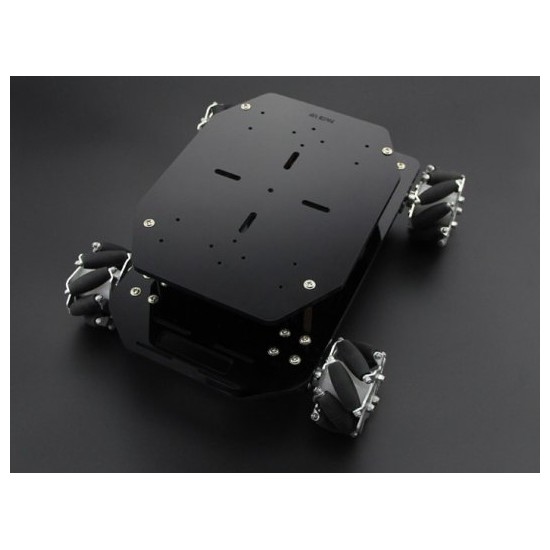 4WD Mecanum Wheel Mobile Robot Kit
This mobile robot kit is a 4WD omni-directional robotics platform: it comes with 4 individually-controlled Mecanum wheels!
DISCONTINUED ARTICLE.
4WD mobile robot kit: all the mechanical and electrical components you need
This kit contains everything you need to assemble your all-terrain mobile robot's electrical and mechanical components. Different decks, motors, Mecanum wheels, supports and screws are included so you can get cracking immediately on assembling your new little mobile masterpiece.
Please note that this kit includes neither the battery, nor the motor drivers, nor the microcontroller.
You'll also have to equip yourself with the cables needed to connect your various components.
It contains more than enough for having lots of fun designing your own robotics platform, particularly as you can also operate it remotely by including a wireless communication module and remote control.
Once assembled, your Mecanum wheel robot is extremely flexible and has a good load capacity (up to 10 kg).
Learn more about the 4WD Mecanum Wheel Mobile Robot Kit in this video presentation (3:00)
Mobile robot with Mecanum wheels: categorically all-terrain
Swedish Mecanum employee Bergt Ilon created this strange, aggressive-looking wheel, which looks like something taken straight from a Mad Max movie, in 1973. He'd just invented the now famous Mecanum wheel, capable of rolling in all directions:
Forwards and in reverse, like any other wheel
In pure rotation, allowing your robot to turn on itself
Sideways, so your robot can move around obstacles in a crab-like movement
Each of the robot kit's 4 wheels is equipped with its own motor and can be controlled individually, offering spectacular freedom of movement.
Technical specifications of the Mecanum Wheel Mobile Robot Kit
The 4WD Mecanum robotics platform includes:
1 chassis
1 upper deck
1 battery compartment
2 left Mecanum wheels: 60 mm diameter, 32 mm high
2 right Mecanum wheels: 60 mm diameter, 32 mm high
4 x DC motor-25 GA 370, standard version
4 motor supports for the DC motor-25 series
4 shaft connectors
8 x M3x5 set screws
4 x M4x18 screw, spring lock washer and plain washer assemblies
20 x M2x8 screw, spring lock washer and plain washer assemblies
26 x M3x8 cross recessed pan head screws
16 x M3x8 cross recessed pan head screws with washers
16 x M3 hex nuts
5 x M3x40 hex standoffs
4 x M3x10 hex standoffs
4 x M2x15 hex standoffs
6 x M2x10 hex standoffs
Battery not included
Weight: 1401 g
Customers who viewed this item also viewed