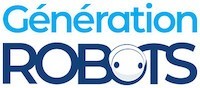 My Cart
0
item(s)
-
€0.00
There are no more items in your cart
Pioneer P3-DX mobile robot
The Pioneer P3-DX is a compact differential-drive mobile robot which has become the reference platform for robotics research. A 100% programmable, very reliable and highly customisable robot, the Pioneer P3-DX includes a high-precision motion controller and navigates swiftly, avoiding obstacles along the way. DISCONTINUED PRODUCT
Pioneer P3-DX by Adept: a star for your lab
The Pioneer P3-DX research mobile robot by Adept is a differential-drive platform designed to last: its lacquered aluminium makes it lightweight and rugged – and capable of negotiating all obstacle courses in style.
Like other research robots, this one benefits from a complete ROS for the purposes of programming at will, thanks to the Pioneer SDK and its 5 dedicated tools:
Possible uses and customisation of the P3-DX robot
With the P3-DX, it's possible to carry out a wide range of experiments in a lab or a workshop, ranging from autonomous navigation, manipulation and mapping to remote-controlled applications. This versatile platform opens up the way to other possibilities thanks to the various software and hardware options available:
software applications for a better control and precision of the robot's movements, and for colour and speech recognition;
hardware options to increase mobility, precision and interactivity – robotised grippers and arms (with integrated support), video camera, ultrasonic motion sensor, joystick, gyroscope, and so on.
Technical specifications of the P3-DX robot by Adept
1.6 mm lacquered aluminium body
Foam-filled rubber tires
Weight: 9 kg
Maximum payload: 17 kg
Turn radius: 0 cm
Swing radius: 26.7 cm
Max. speed: 1.2 m/s (peaks up to 1.6 m/s)
Rotation speed: 300°/s
Max. traversable step: 2.5 cm
Max. traversable gap: 5 cm
Max. traversable grade: 25 %
Traversable terrain: indoor, wheelchair accessible
Autonomy: 8-10 hours with 3 batteries (with no accessories)
Charge time: 12 hours (standard) or 2 hours (optional high-capacity charger)
Supply voltage: 5V @ 1.5A; 12V @ 2.5A
Up to 3 12V 7.2 Ah lead acid batteries
Hot-swappable batteries
Available recharge options:

Docking station
Direct plug-in
Powercube (3-battery charging bay)

Microcontroller I/O:

32 digital inputs
8 digital outputs
7 analogue inputs
3 serial expansion ports

User control panel:

MIDI programmable piezoelectric buzzer
Power indicator
Battery recharge indicator
2 AUX power switches
Reset
Motor enable push-button

This Pioneer robot includes front sonar and one of three battery. Charger sold seperately
Resources for the P3-DX
Click on the link below to download a detailed description:
Customers who viewed this item also viewed