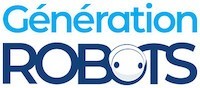 My Cart
0
item(s)
-
€0.00
There are no more items in your cart
Pioneer 3-AT mobile robot
P3-AT is a research mobile robot ideal for all-terrain operation, showing the quality level you have come to expect from Pioneer robotised platforms – this one with an adventurous edge... DISCONTINUED PRODUCT
Pioneer 3-AT by Adept: the truly mobile robot for outdoor exploration
While many mobile robots by Adept are intended to be used indoors with caution, P3-AT opens up new paths outside your lab.
This four-wheel drive robot with reinforced tires and a lacquered aluminium body may be a bit slower than P3-DX or AmigoBot, but it can run on all surfaces: flooring, sandy soil, asphalt or mud – a true exploration vehicle. As always with Adept, the robot runs on a Pioneer ROS.
Install the SDK on your computer, connect it to the robot, and embark on a rich programming adventure as the rugged machine becomes intelligent.
Navigation control, robot mapping (indoors), interaction with the environment, reconnaissance... With the Pioneer IT toolkit, your outdoor mobile robot also is a fantastic research robot.
P3-AT: a versatile explorer
Like all robots by Adept, this one comes with plenty of optional add-ons to enhance your robot, both in terms of hardware and software. You decide what you need for your future experiments: grippers, a remote-controlled camera, a colour or voice recognition application, etc.
Truly designed for research, this smart, versatile and fully programmable mobile robot is not afraid of getting dirty and will inspire you, and other manufacturers...
Technical specifications of the Pioneer 3-AT robot by Adept
1.6 mm lacquered aluminium body
Reinforced tires
Weight: 12 kg
Maximum payload (level surface): 12 kg
Maximum payload (grass, mud): 10 kg
Maximum payload (asphalt): 5 kg
Skid steering drive
Turn radius: 0 cm
Swing radius: 34 cm
Max. speed: 0.7 m/s
Rotation speed: 140°/s
Max. traversable step: 10 cm
Max. traversable gap: 15 cm
Max. traversable grade: 35 %
Traversable terrain: asphalt, flooring, sand, and mud (tires available for indoor use)
Autonomy: 2-4 hours with 3 batteries (with no accessories)
Charge time: 12 hours (standard) or 2 hours (optional high-capacity charger)
Supply voltage: 5V @ 1.5A; 12V @ 2.5A
Up to 3 12V 7.2 Ah lead acid batteries
Hot-swappable batteries
Available recharge options:

Direct plug-in
Powercube (3-battery charging bay)

Microcontroller I/O:

32 digital inputs
8 digital outputs
7 analogue inputs
3 serial expansion ports

User control panel:

MIDI programmable piezoelectric buzzer
Power indicator
Battery recharge indicator
2 AUX power switches
Reset
Motor enable push-button

This Pioneer robot includes front sonar and one of three battery. Charger sold seperately
Resources for the P3-AT by Adept
Here are some very useful links to the original documentation to make sure you're never at a loss!
Customers who viewed this item also viewed