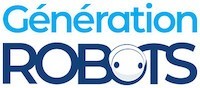 My Cart
0
item(s)
-
€0.00
There are no more items in your cart
ROBOTIS OP2 Humanoid Robot
ROBOTIS OP is coming back in a new, even more efficient OP2 version, and its design makes it even more endearing!
DISCONTINUED PRODUCT
ROBOTIS OP2: a humanoid robot that's receptive, smart... and sturdy!
Formerly known as the "DARwIn-OP", Robotis' humanoid creation has much improved and offers now a full range of advanced capabilities in a simple and powerful architecture.

In practice, ROBOTIS OP2 includes:
A high storage capacity processor offering a fast WiFi connection, user-replaceable SSD and RAM, and a whole range of expert features (HDMI video port, two 2.0 USB ports...), everything being Windows/Linux-compatible;
A CM-740 controller fitted with a 3-axis gyroscope and accelerometer, 2 sensing mics, 3 push buttons, and much more;
20 Dynamixel MX-28T actuator modules, giving the robot a true freedom of movement.
ROBOTIS OP2 is a programmable humanoid robot possessing a host of benefits: it's sturdy (with a high payload capacity), agile, and receptive to its environment thanks to the various embedded sensors.
ROBOTIS OP, updated for the best
At first glance, it is almost impossible to differentiate between the OP2 and its older brother, besides colour. From the front they are exactly the same, and from the back we can only notice the addition of a mini HDMI connector.
What really makes the difference is the advanced computational power of ROBOTIS OP2: 4 times more RAM memory, a 32 GB storage capacity versus 4 GB for the previous version, extra fast data transfer, and support for all Linux and Windows (32-bit) products while ROBOTIS OP could only communicate with Linux. Rest assured, Robotis keeps improving its little man via an open platform, both in terms of software and hardware!
Technical specifications of the OP2 robot by Robotis
Intel Atom N2600 1.6 GHz dual core processor
RAM: 4 GB DDR3 + 204-pin SO-DIMM module (user-replaceable)
Storage: 32GB mSATA module (user-replaceable)
LAN speed: 1 GBps
Installable OS: any Linux release (32-bit)/any Windows release (32-bit)
WiFi: 802.11n (2.4 GHz-only)
Dimensions: 454.5 mm height
Weight: 3 kg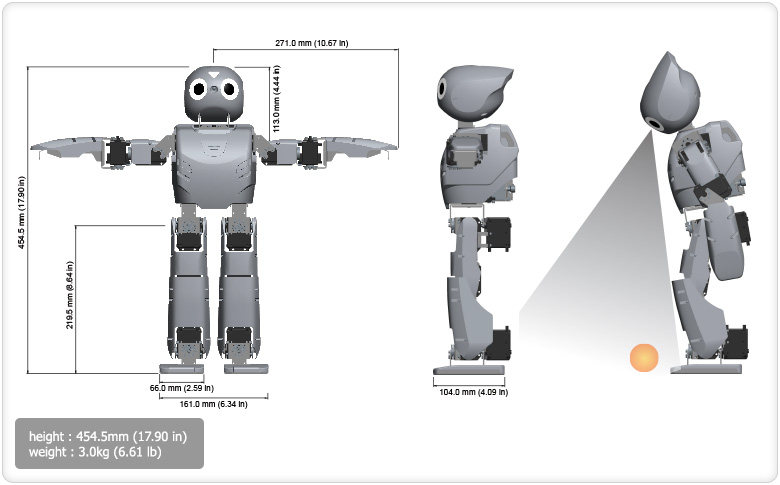 Resources for the OP2 humanoid robot
ROBOTIS OP2 comes with an extensive user guide and OS available below in a single click, just for you!
Customers who viewed this item also viewed