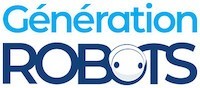 My Cart
0
item(s)
-
€0.00
There are no more items in your cart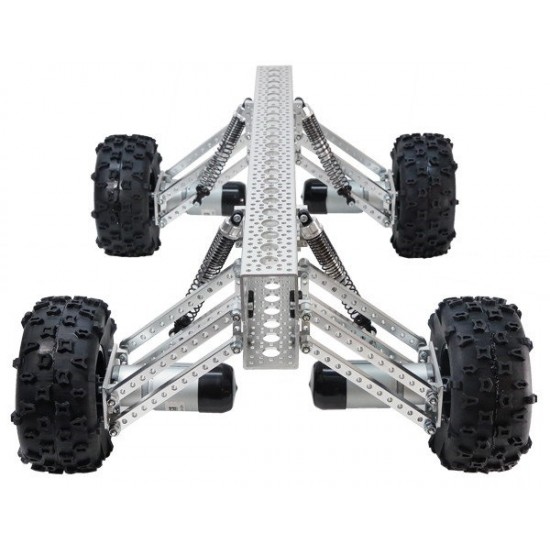 4WD Mantis™ robot chassis
ServoCity |
A-000000-03129
Meet the 4WD Mantis robotics chassis, more flexible than a 4X4 vehicle yet still offering amazing driving capacities: uncompromising with rugged paths!
You can buy the le 4WD Mantis™ without motors (235,90€ with VAT) or with motors (349,90€ with VAT).
Including €0.63 for ecotax
A rover-like chassis for 4-wheeled robots
This 4-wheeled 4WD Mantis™ mini rover owes its robustness and strength to its Actobotics structural components. With its aluminium chassis, its 4 Revolver wheels and its off-road tyres, the 4WD Mantis™ is great for outdoor navigation, whatever the terrain. You'll have plenty of torque to overcome any obstacle with smooth driving, especially as this outdoor robotics chassis can flatten itself entirely to hug the terrain.
Transform your 4-wheeled robot chassis
Actobotics has thought of everything! Whether you plan to attach a GoPro, sensors or an IMU, Actobotics' structural parts are robust enough to accommodate a great variety of modules (there are regular holes in the plates to mount them firmly).
Technical specifications of the 4WD Mini Mantis rover
Assembly requires:
1 x #1 Phillips screwdriver
1 x 5/16" wrench
1 x 3/32" hex key
1 x 7/64" hex key
1 x 9/64" hex key
Pliers
Includes:
4 black Revolver robot wheels
4 channel connector plates
8 type A stainless steel mounts (2x4)
6 x 12 mm type D hex wheel adaptors with 6 mm
4 type D planetary gear motor mounts
2 x 457.2 mm aluminium channels
2 x 342 mm mounts
20 type D 90° dual mounts
4 x 130 mm aluminium robot shock absorbers
16 x 117.3 mm aluminium beams
4 x 137.2 mm off-road tyres
4 x 6-32 11.7 x 6.3 mm tapped standoffs
6 rubber washers
4 x 313 rpm, 12V HD planetary gear motors
56 x 6-32 x 6.35 mm socket head cap screws
8 x 6-32 x 11.1 mm socket head cap screws
4 x 6-32 x 14.3 mm socket head cap screws
32 x 6-32 x 22.2 mm socket head cap screws
32 x 6-32 locknuts
8 x #6 washers
64 x #6 standard washers
36 x #6 lock washers
4 HD gear motor endcaps
16 x M3 x 8 mm Phillips head tapered screws
Motor specifications:

Rated voltage: 12V
Operating voltage range: 6-12 Vdc
Rated load: 4.5 kgf/cm
Operating temperature: -10°C ~ +60°C
No-load speed: 313 rpm
No-load current: 0.52A
Blocking current: 3.8A
Stall torque: 30 kgf-cm
Max. load current: 20A @ 12 Vdc
Dielectric strength: 250 Vac
Motor brush type: graphite
Putput power at max. efficiency: 13W
Reduction ratio: 27:1
Bearing type: dual ball bearing
Metal gear
Gear type: planetary
Output shaft diameter: 6 mm

Net weight: 330 g
Total weight: 3.039 kg (with motors); 1.678 kg (without motors)
Tyre size: 137.1 mm in diameter, 57.1 mm wide
Resources for the 4WD Mini Mantis chassis
Are you drowning in screws and washers? Check out this explanatory video to mount your 4WD Mantis robotics chassis in no time:
Customers who viewed this item also viewed