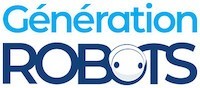 My Cart
0
item(s)
-
€0.00
There are no more items in your cart
Dynamixel Waterproof XW430-T200-R Servo
The Dynamixel XW430-T200-R actuator with RS485 connection combines a 100% waterproof device with a medium torque, allowing for some speed if required.
Dynamixel XW430-T200-R: 24-hour immersion
If you need an efficient servo to create a marine or underwater drone, look no further. What makes this actuator so unique is its remarkable resistance to immersion. Totally dustproof, it can also be submerged to a depth of 1 metre for a whole day!
Its IP rating of 68 makes it one of the most waterproof servos in the Dynamixel range:
6 is the maximum level of dust resistance
The number 8 tells you how watertight it is – bearing in mind that the most water-resistant devices get a 9!
A servo for all-round control
If you want to control a machine that can move on land and in water, or even a submarine, you'll want to be able to rely on your servo's resources. Of which the Dynamixel XW430-T200-R has many:
Highly precise control for each operating mode: current control, velocity control, PWM, etc.
Equally comprehensive feedback, so you're never left in doubt about how your machine is performing
Technical specifications of the XW430-T200-R
MCU: ARM Cortex-M3 (72 MHz, 32 bits)
Position sensor: contactless absolute encoder (12 bits, 360°)
Motor: coreless (Maxon)
Baud rate: 9,600 bps~4.5 Mbps
Control algorithm: PID
Resolution: 4096 pulses/rev
Backlash: 15 arcmin (0.25°)
Operating modes: current control, velocity control, position control, extended position control (multi-turn), current-based position control, PWM control (voltage control)
Gear ratio: 200.1:1
Input voltage: 10~14.8 V (12 V recommended)
Stall torque:

2.1 Nm @ 11.1 V, 1.2 A
2.3 Nm @ 12 V, 1.3 A
2.7 Nm @ 14.8 V, 1.5 A

No-load speed:

49 rpm @ 11.1 V
53 rpm @ 12 V
66 rpm @ 14.8 V

Radial load: 40 [N] (10 [mm] away from the horn)
Axial load: 20 N
Operating temperature: -5 to 80 °C
Ingress protection: IP 68 (1 m, 24 h)
Command signal: digital packet
Physical connection: RS485 multidrop bus, RS485 asynchronous serial communication (8 bits, 1 stop, no parity)
ID: 253 ID (0~252)
Feedback: position, velocity, current, real-time tick, trajectory, temperature, input voltage, etc.
Materials: metal case and gears
Standby current: 40 mA
Dimensions: 28.5 × 46.5 × 34 mm
Weight: 96 g
Resources for the XW430-T200-R servo motor
Find the right information for your Dynamixel XW430-T200-R servo among this list of links, compiled especially for you:
Data sheet
Serie

XW

Tension de fonctionnement [V]

10 - 14.8 V

Couple de décrochage [N-m]

2 - 2.9

Courant de décrochage [A]

1 - 1.4 A

Vitesse à vide [rpm]

40 - 49

Protocole de communication

RS485
---

The motor is probably not well mounted. Check that you correctly mounted the horns by respecting the mark.

---

---

Check your power supply and the system cabling (try with a different servomotor). You can also reset the servo. If nothing works, the best solution is to go through the Dynamixel servomotor checklist!

---

The 1.0 protocol is dedicated to the Dynamixel AX and MX series. Protocol 2.0 is for the X and Dynamixel Pro series. Protocol 2.0 control tables include PID controls which allow for more precise adjustment of the servo motor movements. Protocol 2.0 can be updated on MX series servo motors. You can refer to the protocol 1.0 and protocol 2.0 pages for more informations.

---
Customers who viewed this item also viewed