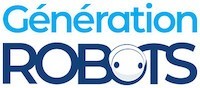 My Cart
0
item(s)
-
€0.00
There are no more items in your cart
Official Dynamixel Starter Set (EU)
You can now power, connect and program all your Dynamixel servos, whatever the model, thanks to this official and very clever Dynamixel starter set.
Dynamixel starter set: U2D2 + U2D2 PHB + adapter
This starter set allows you to power and control any Dynamixel servo motor, and even several different types of servos according to your needs. It consists of 3 essential items:
The U2D2 Dynamixel connector, which allows you to communicate with your servo from your PC via a USB connection. It includes one TTL port, one UART port and one RS-485 port;
The U2D2 PHB, which is a power hub board that combined with the U2D2 connector supplies power to any available model of Dynamixel servo;
The SMPS 12V 5A AC adapter, which will power your U2D2 PHB.

Full compatibility with all types of Dynamixel
The connection standards of the intelligent servos in the Dynamixel range may vary from one model to another. This Dynamixel Starter Set will solve all your compatibility problems, because not only does it include U2D2 accessories, but it also comes with the necessary robotics cables (convertible or not, X3P or X4P mode).
Technical specifications of the U2D2 Dynamixel set
The set contains:
1 Dynamixel U2D2
1 U2D2 power hub board (PHB)
1 SMPS 12V 5A AC adapter
1 USB micro-B cable
1 X3P 100 mm ROBOT cable
1 X4P 100 mm ROBOT cable
1 X3P 180 mm convertible ROBOT cable
1 X4P 180 mm convertible ROBOT cable
4 M3 nuts
4 M3x10x6 supports
4 plastic rivets for U2D2 attachment
Specifications:
U2D2 dimensions: 48 x 18 x 14.6 mm
U2D2 weight: 9 g
U2D2 available parts: 3-pin TTL, 4-pin RS-485, 4-pin UART (for CM-150 and CM-200 type controllers)
U2D2 baud rate: 9600 - 6 Mbps
PHB dimensions: 48 x 57 mm
PHB operating voltage: 7.4-24V
PHB maximum current: 10A
SMPS AC adapter: 100-260V AC / 50-60 Hz input; 12V output
Compatible Dynamixel servos: all (using the appropriate cable, supplied)
Dynamixel servo motors not included
Resources for the Official Dynamixel Starter Set
Familiarise yourself with the Dynamixel universe with these documents, supplied with the Dynamixel U2D2 Official Starter Set:
Customers who viewed this item also viewed