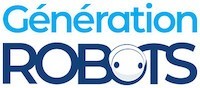 My Cart
0
item(s)
-
€0.00
There are no more items in your cart
Unitree Robotics - Quadruped robots
Unitree Robotics is a Chinese firm offering a range of high-performance dog robots at a more accessible price than Boston Dynamics' Spot robot. Their robot dogs are ROS compatible. There are different versions :
Aliengo, the robot dog explorer
AlienGo is an explorer dog robot with all the necessary features of an autonomous navigation robotic platform. Suitable for hostile environments, it is ideal for surveillance and exploration in urban and industrial environments. It can map its environment in 2D and 3D and can run at speeds of 6 km/h
GO1, the robot dog that combines accessibility and performance
The Go1 dog robot is intended for higher education and the development of industrial applications ranging from service robotics to autonomous monitoring. Stealthy and agile, it can lift small loads up to 10 kg and move very quickly (up to 17 km/h). It is available in different versions :
Edu Basic : version without LiDAR and 3 Jetson Nano cards
Edu : version without LiDAR and 2 Jetson Nano boards + 1 NVIDIA Jetson NX board
Edu Explorer : version with Slamtec M2M2 2D LiDAR and 2 Jetson Nano boards + 1 NVIDIA Jetson NX board
Edu Explorer 2 : version with RS-LiDAR 16 3D LiDAR (Robosense) and 2 Jetson Nano boards + 1 NVIDIA Jetson NX board
GO2, a Blend of Mechanics, Electronics, and Artificial Intelligence
With impressive motor and balance capabilities, the Go2 robot dog combines cutting-edge technology with an elegant and agile design. Succeeding the Go1, it offers remarkable technical capabilities while remaining affordable:
Travel Speed: up to 5 m/s
Ultra-long Autonomy: 2 to 4 hours
Integration of Chat GPT
Payload Capacity: up to 12 kg
Max Articulation Torque: 45N.m
Recognition System: 4D LiDAR L1
Similar to Go1, Go2 is available in multiple versions to cater to various needs:
Go2 Air: A version accessible to all, perfect for technology enthusiasts
Go2 Pro: A high-performance version at an affordable price
Go2 Edu Plus: A version designed for research and higher education. This model is available in several variations (with or without LiDAR)
B1, the robot dog agile and high-performance
The B1 robot dog is designed for research and development. It stands out for its agility, speed and ability to carry heavy loads of over 100 kg.
Z1, the collaborative arm for robot dog
Z1 robot arm can be used with the Aliengo and B1 quadruped robots, allowing them to accomplish even more tasks. Lightweight and compact, it has 6 degrees of freedom and can carry loads of up to 2 kg (Z1 Air) and up to 3 kg (Z1 Pro)