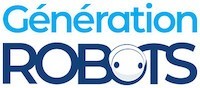 My Cart
0
item(s)
-
€0.00
There are no more items in your cart
Get a quote in only 3 steps!
1. Add the items you are interested in to your cart
2.Go to your cart
3.Click on GENERATE A QUOTE
Your quotations are available online on your customer account.
Official Starter Kit Arduino
Payment methods
(see T&C)
The Arduino starter kit
The Arduino Starter Kit contains everything needed to make 15 progressive projects described in a color book included in the kit. This Arduino kit is ideal to discover the Arduino technology and learn about electronics and circuits for the realization of your own gadgets based on Arduino.
This kit is available from the age of 12.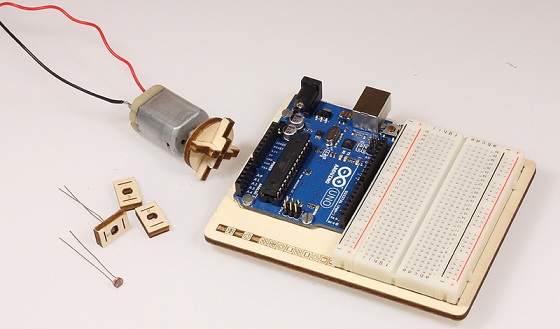 The Arduino project book
01 Get to know your tools: an introduction to the concepts you'll need to use this kit. Discover basic electrical theory, how a breadboard works, components in series and parallel (duration: 30 min).
02 Spaceship interface: design to control panel for your starship.Discover digital input and output, make your first program and use variables (duration: 45 min).
03 Love-o-meter: measure how hot-blooded you are. Discover analog input and use the serial monitor (duration: 45 min)
04 Color mixing lamp: produce any color with a lamp that uses light as an input. Discover analog output and mapping values (duration: 45 min).
05 mood cue: clue people in to how you're doing. Use mapping values, servomotors and built-in libraries (duration: 1 hour).
06 Light theremin: create a musical instrument you play by waving your hands. Discover how to make sound with the tone() function and how to calibrate analog sensors (duration : 45 min).
07 Keyboard instrument: play music and make some noise with this keyboard.Discover resistor ladders and arrays (duration: 45 min).
08 Digital hourglass: a light-up hourglass that can stop you from working too much. Discover long data type and create a timer (duration: 30 min).
09 Motorized pinwheel: a color wheel that will have your head spinning. Discover transistors, high current/voltage loads (duration: 45 min).
10 Zoetrope: create a mechanical animation you can play forward or reverse. Discover H-bridges (duration: 30 min).
11 Crystall ball: a mystical tour to answer all your tough question. Discover LCD Displays, switch/case statements and random() function (duration: 1 hour).
12 Knock lock: tap out the secret code to open the door. Discover input with a piezo and write your own function (duration: 1 hour).
13 Touchy-feel lamp: a lamp that responds to your touch. Discover how to install a third party library and how to create a touch sensor (duration: 45 min).
14 tweak the Arduino logo: control your personal computer from your Arduino. Discover serial communication with a computer program (duration : 45 minutes).
15 Kaching buttons: create a master control for all your devices! Discover optocoupler and how to connect with other components (duration: 45 min).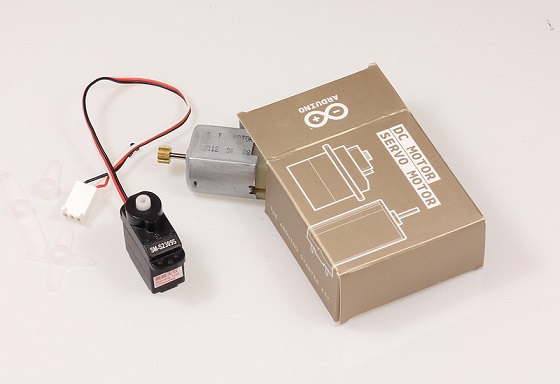 Content of the Arduino starter kit
1 x Arduino Projects Book (170 pages) - the language depends on the kit you choose
1 x Arduino UNO board rev.3
1 x USB cable
1 x Breadboard
1 x Easy-to-assemble wooden base
1 x 9v battery snap
70 x Solid core jumper wires
2 x Stranded jumper wires
6 x Photoresistor [VT90N2 LDR]
3 x Potentiometer 10kilohm
10 x Pushbuttons
1 x Temperature sensor [TMP36]
1 x Tilt sensor
1 x alphanumeric LCD (16x2 characters)
1 x LED (bright white)
1 x LED (RGB)
8 x LEDs (red)
8 x LEDs (green)
8 x LEDs (yellow)
3 x LEDs (blue)
1 x Small DC motor 6/9V
1 x Small servo motor
1 x Piezo capsule [PKM17EPP-4001-B0]
1 x H-bridge motor driver [L293D]
2 x Optocouplers [4N35]
5 x Transistor [BC547]
2 x Mosfet transistors [IRF520]
5 x Capacitors 100nF
3 x Capacitors 100uF
5 x Capacitor 100pF
5 x Diodes [1N4007]
3 x Transparent gels (red, green, blue)
1 x Male pins strip (40x1)
20 x Resistors 220 ohm
5 x Resistors 560 ohm, 5 Resistors 1 kilohm, 5 Resistors 4.7 kilohm, 10 Resistors 10 kilohm, 5 Resistors 1 megohm, 5 Resistors 10 megohm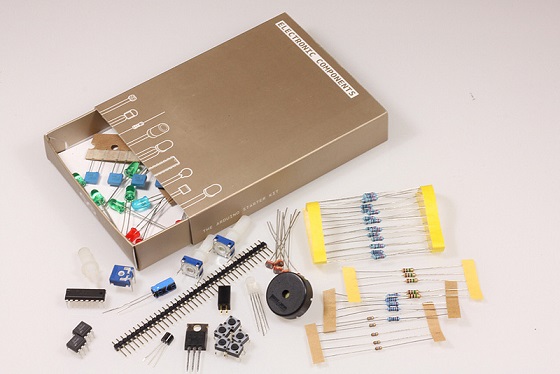 Data sheet
Origine

IT

Age group

12-14 years
Specific References
EAN13

7630049200098
Customers who viewed this item also viewed