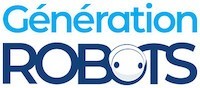 My Cart
0
item(s)
-
€0.00
There are no more items in your cart
Get a quote in only 3 steps!
1. Add the items you are interested in to your cart
2.Go to your cart
3.Click on GENERATE A QUOTE
Your quotations are available online on your customer account.
Dynamixel MX-12W servo motor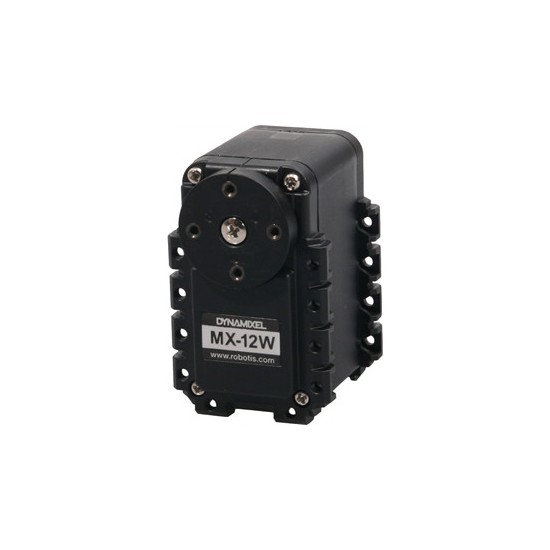 Including €0.01 for ecotax
The Dynamixel MX-12W servo motor offers you greater control accuracy.
Payment methods
(see T&C)
The Dynamixel servo motors
Presentation of the Dynamixel range

Dynamixel servo motors are integrated actuators that include:
A reducer
A controller
A driver
Dynamixel servo motors have a unique identifier and communicate via digital packets.
The main characteristics of the Dynamixel range are:
High position control accuracy (1024 steps for the AX, RX, and EX models; 4096 for MX).
Numerous feedback functions for the servo motor's different physical variables (current position, speed, voltage, internal temperature, etc.).
An alarm depending on the internal temperature, torque or supply voltage, which is set off when these values exceed defined limits. The Dynamixel servo motor provides feedback and can correct the situation automatically.
" Compliance Driving ": Control the amount of elastic force in the position control.
Torque establishment: The torque can be established in 1023 steps, from maximum torque to freewheeling.
Low current/high voltage operation: High efficiency as it operates at a higher voltage. The performance of your robotic system is also improved by its low current consumption.
A status LED is used as a visual display of the Dynamixel's status.
Easier mechanical assembly through numerous compatible mechanical components.
Easy 'daisy chain' wiring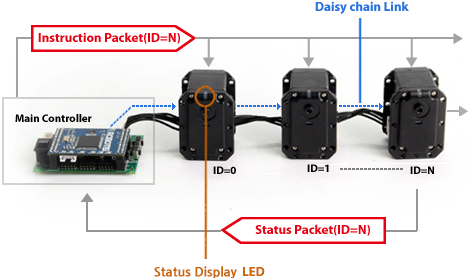 The following video demonstrates the existing capabilities and applications of Dynamixel servo motors:
The Dynamixel MX-12W servo motor
To make life simple, the Dynamixel servo motor range can be divided into 3 families (if we leave out the small Dynamixel XL-320 servo motor, which is separate) by classifying them according to their footprint, i.e. their size and hence the mounting frames you need to use. Within each family, the servo motors are interchangeable in terms of the size of the outer case. This short introduction will help you anderstand this new servo motor's positioning. So the 3 families are:
Medium servo motors: RX-24F , RX-28 and MX-28
The MX-12W is a servo motor that falls in the first family, in other words that of the AX-12A. As you see, it's the first servo motor in this family to bear the prefix M (which distinguishes the latest generation of Dynamixel servo motors, which are smarter). Before the arrival of the Dynamixel MX-12W servo motor, you had only two choices for replacing the AX-12A: the AX-18A for power or the AX-12W for speed. You can now choose the MX-12W for control and intelligence, and benefit for example from its PID control.
Technical specifications of the Dynamixel MX-12W servo motor
Microcontroller: ST CORTEX-M3 (STM32F103C8 @ 72 MHz, 32 bit)
Position sensor: Absolute contactless encoder (12 bit, 360°)
Motor: Cored motor
Baud rate: 8,000 bps – 4.5 Mbps
Control algorithm: PID
Resolution: 0.088°
Movement range: 0° – 360° / continuous rotation
Weight: 54.6 g
Dimensions: 32 mm × 50 mm × 40 mm
Reducer ratio: 32:1
No-load speed: 470 rpm (@ 12 V)
Operating temperature: -5 °C to +80 °C
Voltage: 10.0–14.8 V (recommended voltage 12 V)
Control: Digital packet
Protocol: Half-duplex asynchronous series communication (8-bit, 1 stop, No Parity)
Connection (physical): TTL Level Multi Drop (daisy chain type Connector)
ID: 254 IDs (0–253)
Feedback: Position, temperature, load, input voltage, current, etc.
Material: Engineering plastic
Standby current: 60 mA
The following image shows a diagram of the Dynamixel MX-12W servo motor with the dimensions in mm: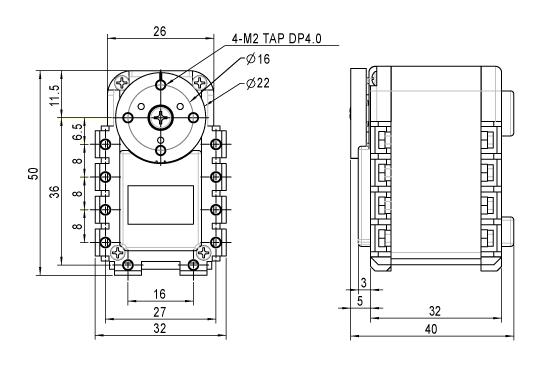 Video showing the Dynamixel MX-12W servo motor
---

The motor is probably not well mounted. Check that you correctly mounted the horns by respecting the mark.

---

---

Check your power supply and the system cabling (try with a different servomotor). You can also reset the servo. If nothing works, the best solution is to go through the Dynamixel servomotor checklist!

---

The 1.0 protocol is dedicated to the Dynamixel AX and MX series. Protocol 2.0 is for the X and Dynamixel Pro series. Protocol 2.0 control tables include PID controls which allow for more precise adjustment of the servo motor movements. Protocol 2.0 can be updated on MX series servo motors. You can refer to the protocol 1.0 and protocol 2.0 pages for more informations.

---
Customers who viewed this item also viewed