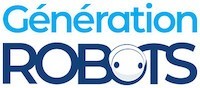 My Cart
0
item(s)
-
€0.00
There are no more items in your cart

Arduino-Compatible Board - Romeo V2
Ultra-compatible, easy to use, designed for rapid programming and quick creations, the DFR0225 Romeo V2 board has more than one trick up its sleeve!
Including €0.01 for ecotax
Romeo V2 board: Designed to be compatible
As all Arduino fans will agree, the DFR0225 Romeo V2 board is equipped with the ATmega32u4 chip and an Arduino Leonardo bootloader. It can therefore be used with most Arduino-compatible shields and modules and is particularly suitable for DFRobots robotics applications. In short, you benefit from the full Arduino Leonardo programming environment (including its data libraries and open source codes) as well as from its ultra-efficient microcontroller and debugging made easier by the microcontroller's two serial ports, while also taking advantage of the various modules, sensors, servo motors and chassis offered by DFRobots. Not forgetting the fact that this V2 release offers some nice surprises compared with the V1.1...
The "All-In-One" Romeo V2: All the joys of fuss-free creation!
Whether a beginner or a computer genius, everyone will be happy with the Arduino-compatible Romeo V2 board. Building any type of mobile robot becomes as simple as working with a Lego NXT: the integrated L298P allows you to control 2 DC motors (up to 2 amps) or a stepper motor, and there is even an XBee module support and an RF support. The 3-pin Vdc, GND and Signal connectors allow you to directly connect all your creation's components. Its LEDs and reset button are strategically positioned to leave the user lots of room for connecting shields and modules. Its terminal system allows you to power modules and servo motors independently, and there are also 5 push buttons for controlling your creation. As far as programming is concerned, the emphasis is also on simplicity since you can use either the Arduino IDE 1.01 software or a more recent version.
Technical specifications of the Arduino-compatible Romeo V2 board
USB power supply or power connector (6–23 Vdc)
Output: 5 Vdc/2A and 3.3 Vdc
Microcontroller: ATmega32u4
Bootloader: Arduino Leonardo
Inputs/outputs:

6 analogue inputs
16 digital I/Os (including 6 configurable analogue)
8-bit PWM: 3, 5, 6, 9, 10, 11 and 13
5 push buttons for testing

Motor outputs: 2A max. per channel
SPI, I2C/TWI, USB serial interfaces
APC220 RF module support
Version: V2.0
Dimensions: 89 x 84 x 14 mm
Resources for the Arduino-compatible "All-In-One" Romeo V2 board
The following resources will help you get quickly started with your Romeo V2 board:
Arduino-compatible "All-In-One" Romeo V2 board wiki page (en)
Schematic for the Arduino-compatible "All-In-One" Romeo V2 board
Customers who viewed this item also viewed