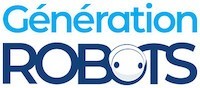 My Cart
0
item(s)
-
€0.00
There are no more items in your cart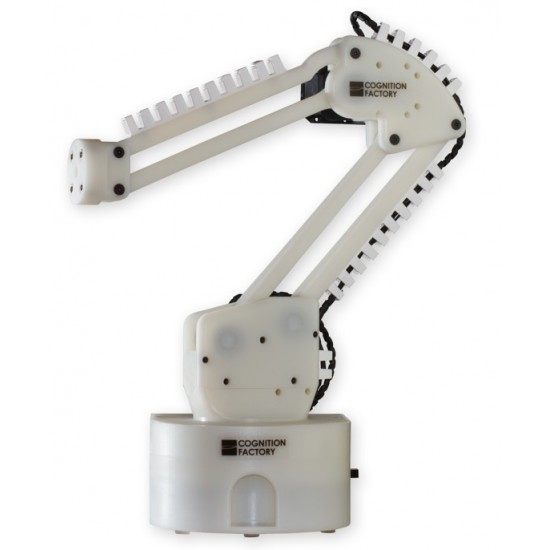 R0 robot arm with 3 degrees of freedom
Check out Cognition Factory's robot arm: strong, reliable, and programmable using a Python API (available online). It is equipped with Dynamixel MX-106R servo motors, the most powerful servo motors in the Dynamixel range. DISCONTINUED.
R0 robot arm with 3 degrees of freedom
What's so special about the r0 robot arm? The r0 (pronounced [ˈrəʊ]) robot arm with 3 degrees of freedom is a simple way of introducing people to the most commonly used robots in the world of industry. With its three degrees of freedom, it offers users the possibility to discover the basic operational principles of a classic manipulator arm.
Whether you are a teacher, a researcher, a student or a robot enthusiast, this mechanism is the perfect solution if you are looking for a powerful, silent, and user-friendly robot arm.
The robot arm is fitted with a 3D printer and Dynamixel servo motors. The r0 robot arm is equipped with three Dynamixel MX-106R servo motors, the most powerful servo motors in the Dynamixel range, with high-level control features. They are also very precise.
NOTE: This robot arm does not come with a tactile gripper (available as an option).
Testing the r0 robot arm with 3 degrees of freedom
We put this robot arm to the test under real conditions. The various steps are described below:
Setting up a connection:
You can set up a quick connection to the r0 robot arm allowing you to control it:
Via Wifi: The robot is shipped with an USB WiFi adapter. It can be controlled from a web page.
Via LAN: You can connect to the robot via your local DHCP router or use a static IP address
Via SSH: You can connect to the robot using SSH.
Using the web interface
Giving top priority to user experience, the manufacturer has designed a demo web interface which offers an overview of the robot arm.
A first button enables the motors. Once enabled, the arm is operational and can be steered using two cursors.
As its name indicates, the Robot Control Center window lets you control the robot's position within its operating space.
The first cursor in the left-hand window controls the arm within a plane, while the right-hand cursor controls its vertical position.
Using the camera
The robot is also fitted with a camera as an end effector (connected directly to the controller via USB), which can be used to control the robot arm by vision for example. So it would be entirely possible to devise an application for following faces, balls or colours using this robot.
The camera is attached to the robot with an ISO 9409-1 flange, which allows you to replace the camera with conventional grippers (subject to working load limits).
Taking it further: Cognition Factory's API
For more sophisticated applications, the manufacturer provides a Python API enabling you to simply and effectively explore this robot arm's full potential.
Find out more about the API on the manufacturer's website: http://doc.cognitionfactory.eu/r0/api.html
Specifications of the r0 robot arm with 3 degrees of freedom
Mechanical and electrical specifications:

Degrees of freedom: 3
Reach: 0.45 m
Max. payload: 0.5 kg
Logitech Quickcam
Supply: 12 V DC
Consumption: 60 W

Workspace:

Rotating base: -135°; 135°
Shoulder joint: -60°; 85°
Elbow joint: -55°; 50°
Link lengths: 0.19 m; 0.19 m

Onboard PC:

Controller: OLinuXino A20
Processor: Cortex-A7 dual-core @ 1 GHz
RAM : 512 MB
Internal storage capacity: 4 GB

I/O:

Ethernet
2 x USB 2.0
2 x RS-232
1 x PWM
1 x SPI
4 x GPIO
Dynamixel RS-485
Below is a diagram of Cognition Factory's r0 robot arm:
Resources for the r0 robot arm with 3 degrees of freedom
In an effort to get your robot arm up and running quickly, Cognition Factory has produced a quick start guide, as well as a manual with detailed specifications. For the most updated documentation refer to: http://doc.cognitionfactory.eu
Quick start guide for the r0 robot arm with 3 degrees of freedom
Technical specifications of the r0 robot arm with 3 degrees of freedom
Customers who viewed this item also viewed