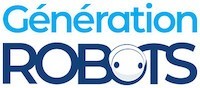 My Cart
0
item(s)
-
€0.00
There are no more items in your cart
Small robot arms programmable in Python, C++, Blockly (ROS, SDK)
Why should I used a robot arm in my project?
Articulated robotic arms are essential in any project that involves item grasping:
Pick and place (moving an object to a specific spot)
Sample gathering
Tool handling (e.g. welding robots)
Product testing (e.g. multiple taps on a smartphone screen or on buttons)
Etc
What types of robot arms are available for sale at Generation Robots?
Generation Robots supplies two main types of robotic arms:
Collaborative robots (cobots)
Desktop robotic arms
What is a cobot?
A cobot, or collaborative robot, is equipped with many sensors which make them aware of their immediate surroundings in real time. This means that the robot can perform its tasks next to a human, without hurting him by accident. These are usually tall robotic arms, programmed to stop working instantly if it detects a worker in its "safety zone".
What is a desktop robotic arm?
As their name suggests, desktop robotic arms are smaller than cobots, allowing them to be mounted on a desk, a workbench, or any work surface.
Is the number of axes a key factor?
A robot with 6 axes can reach any point in space, with any given orientation. 6 axes robot are perfect for performing a great number of tasks.
For example:
Grab the bottom of a tool (screwdriver, hammer), turning it over, and put it back at its spot
Writing on a desk or wall
For applications that require a high degree of accuracy (especially in industry), but not intricate movements, a 6-axis robot may be oversized, and a 4-axis arm will do a fine job.
Most robotic arms have 6 axes, but it is possible to have more. In a space with obstructions, a 7 or 8 axis arm will be more suitable than a 6 axis.
A 7-axis arm will go around the obstacles in its pathway and perform its tasks (welding, picking up objects).
Which robotic arms are Arduino-based?
In our catalog, the robotic arms based on Arduino are the following: the Trossen Robotics range, including the ViperX, WidowX, PincherX arms, can be programmed in the Arduino environment (Arduino IDE).
Some robots from the Niryo Robotics brand are Arduino-compatible and they are all equipped with a Raspberry Pi board. The arms can be controlled from an master Arduino board.