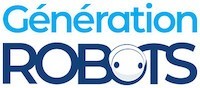 My Cart
0
item(s)
-
€0.00
There are no more items in your cart
Seekur mobile robot
The performance of Adept's PowerBot left you speechless? Be prepared for a shock with Seekur, their all-terrain mobile robot: this massive, versatile 300 kg platform is equipped with wheels and a suspension capable of coping with all steering conditions and, as always, it offers capabilities worthy of a cutting-edge search robot.
DISCONTINUED ARTICLE.
Seekur, the unstoppable mobile robot
While many research robots are most comfortable performing their tasks in your lab sheltered from the elements, Seekur is both a warrior and an adventurer.
With its 4 omnidirectional drive wheels, its robust aluminium body, its steel suspension and its IP rating ensuring effective protection against the weather, Seekur can navigate in all conditions, including very rugged terrain. The robot's remarkable run time makes it able to cover miles and miles of terrain in a day.
Adept's Seekur robot can be outfitted with heavy payloads (up to 70 kg) and is resistant to extreme temperatures, which doesn't mean it's lacking in terms of agility and intelligence!
Learn more about the Seekur in this video presentation
Choose the search mobile robot you need
The versatility and adaptability of Adept robots never disappoint: not only does Seekur benefit from an advanced open-source programming environment with the Pioneer SDK, but you can also customise it to satisfy all your needs with the various hardware options available.
The mobile robot with 2 on-board PCs can be controlled remotely using WiFi or a joystick to go wherever its extraordinary capabilities are required.
Seekur can be made fully autonomous for robot mapping once equipped with laser range finders. You can track your robot's path at any moment, and plan travel both indoors and outdoors using a differential GPS (DGPS).
With the appropriate equipment, Seekur can perform many tasks, from handling objects with a robotic arm to remote surveillance with a PTZ camera.
Technical specifications of the all-wheel drive Seekur robot
Platform:

Aluminium body
Dimensions: 140 × 130 × 110 cm
Weight: 300 kg
Maximum payload: 70 kg
Maximum speed: 1.8 m/s
Autonomy: 3–8 h
Charge time: 8 h
4 wheel skid steering, differential drive
Turn radius: 0 cm
Swing radius: 83 cm
Max. traversable step: 17 cm
Max. traversable grade: 20% (35% unladen)
Indoor use: tile and flooring (can damage carpets and mats)
Outdoor use: pavement, grass, light snow, rocky terrain, sand, mud
All-weather capable (IP: 54)
Working temperature: -20 to 50°C
NiCad 100 Ah battery

Electronics:

Up to 5 optional on-board PCs
Digital and analogue I/O on external high speed CAN bus
LCD with back light
Export power: 5/12/24 Vdc regulated

Communication:

Phytec MPC-565 microcontroller
Wireless communications options: 2,4 GHz 802.11 b/g 900 MHz (long range Ethernet bridge)

1 year guarantee (optional: 3 years)
The Seekur base includes a gyroscope, a joystick, an LCD display, bumpers (3 front/3 rear/1 per side), a spare tire, one battery, and a 110/220V charger.
Resources for the Seekur mobile robot by Adept
Below you will find all the technical data you need to easily use your Seekur robot:
Customers who viewed this item also viewed