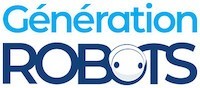 My Cart
0
item(s)
-
€0.00
There are no more items in your cart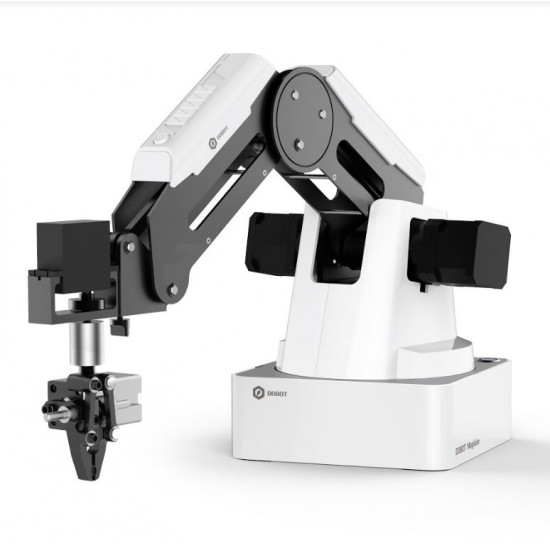 Dobot Magician Robotic Arm (for education) - without laser module
Yuejiang, the company responsible for creating a unique robotics platform designed for scientific and technological learning, initially set itself quite a challenge, that of developing students' programming skills while providing them with a versatile and intelligent tool for performing numerous industrial robotics operations. Mission accomplished!
For safety reasons, we have decided to remove the laser from the Dobot Magician set.
€1,520.00
€1,470.00
Save €50.00
Tax included
Including €2.50 for ecotax (not impacted by the discount)
Dobot Magician: a quite frankly magical robotic arm for education
The educational version of the Dobot Magician is a robotic arm designed solely for higher education establishments, including engineering schools and university institutes of technology – or even upper sixth form students studying the sciences and industrial science and technology.
This robotic arm with 4 degrees of freedom is capable of a lot. Simply remove and change its tools as you see fit to use Dobot Magician a 3D printer, an industrial design and writing tool,  a gripper and more. There's even a small suction cup for picking up tiny objects!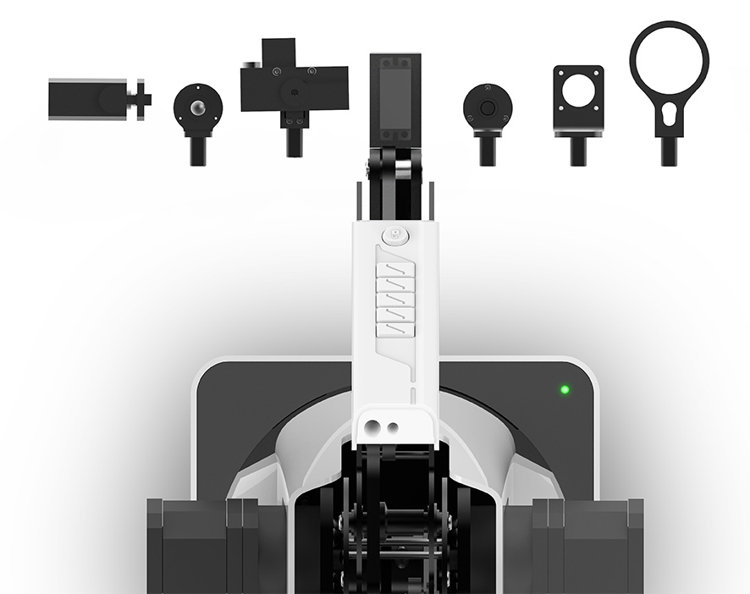 This robotic arm developed for scientific disciplines is delivered ready for installation. It offers a multitude of possibilities from the outset, including a WiFi module, a Bluetooth module and an offline mode. Moreover, you get 10 configurable inputs/outputs, 4 controllable 12V outputs and numerous communication interfaces. Simply help yourself!
Warning!
The Dobot Magician Education version normally comes with a laser engraving module. Although this module is CE certified, the robot does not have an automatic or emergency laser shutdown system, which can be hazardous.
In addition, legislation about laser devices varies significantly from one country to another (in some countries, selling this type of equipment is forbidden).
In order to offer a product that does not present a risk for the user and complies with the legislation in force, Generation Robots has chosen to remove the laser module from the Dobot Magician Education robotics kit. A 50€ discount now applies on this product.
There are also lots of accessories you can use with this educational version, including a linear rail and conveyor belt.
As if by magic: an exciting programming environment!
The Dobot Magician robotic arm comes with an ideal programming environment for students. Not only does it have dedicated software – DobotStudio – which already includes a host of control parameters, but there's also a Blockly robotic arm visual programming editor for those new to programming.
This robotic arm comes with Repetier-Host, a full library of codes, a Scratch (Blockly) type tool to develop your robotic arm and other additional bonuses for further improving an environment already rich in possibilities.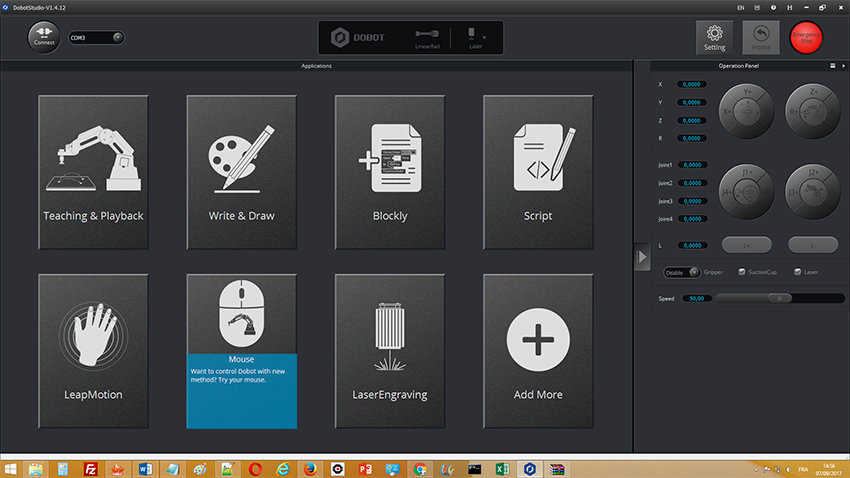 The software and apps that come with this robotic arm for education do most of the work for you, allowing you to control it to the nearest millimetre from your computer (Mac or Windows), tablet or smartphone. You can even develop voice and gesture commands by connecting it to the Leap Motion interface for example.
Technical specifications of the Dobot Magician arm
4 axes
Maximum payload: 500g
Maximum reach: 320 mm
Position repeatability (control): 0.2 mm
Communication: USB/WiFi/Bluetooth
Power supply: 100–240V, 50/60 Hz
Power In: 12V/7A DC
Consumption: 60W max.
Working temperature: -10 to 60°C
Net weight: 3.4 kg
Gross weight: 8 kg
Base dimensions: 158 x 158 mm
Materials: aluminium (alloy 6061), ABS engineering plastic
Dobot integrated controller
Horizontal mounting
Dimensions: 307 x 224 x 330 mm
Box dimensions: 345 x 290 x 485 mm
Extensible I/O interfaces: 10 I/O (configurable as analogue inputs or PWM outputs); 4 controllable 12V power outputs; communication interfaces (UART, Reset, Stop, 12V, 5V and 2 I/O included); 2 steppers
Axis movement:
Joint 1 (base):

Range: -90° to 90°
Max. speed (250 g workload): 320°/s

Joint 2 (rear arm):

Range: 0° to 85°
Max. speed (250 g workload): 320°/s

Joint 3 (forearm):

Range: -10° to 95°
Max. speed (250 g workload): 320°/s

Joint 4 (rotation servo):

Range: 90° to -90°
Max. speed (250 g workload): 480°/s

Available accessories (education version):
Dobot robotic arm
Vacuum suction cap:

Diameter: 20 mm
Pressure: -35 Kpa

Gripper:

Range: 27.5 mm
Drive type: pneumatic
Force: 8N

3D printer kit:

Max. print size: 150 x 150 x 150 mm
Material: PLA
Resolution: 0.1 mm

Writing and drawing kit:

Pen holder diameter: 10 mm

For safety reasons, we have decided to remove the laser from the Dobot Magician set.



Bluetooth module
WiFi module
Joystick
Applications
Software: DobotStudio, Repetier-Host, GrblController3.6, DobotBlockly (visual programming editor)
Software development kit: Communication Protocol, Dobot Program Library
Resources for the Dobot robot arm for education
Videos, downloads, online manuals, tutorials, the list goes on... With Dobot Magician the resources just keep coming, as if pulled from a magician's hat!
Customers who viewed this item also viewed