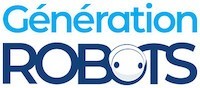 My Cart
0
item(s)
-
€0.00
There are no more items in your cart
Gear/Bearing Set for the Dynamixel X540-150 Servo
This metal gear set is designed to last longer and resist abrasion. The gears are compatible with all servo motors in the Dynamixel X540-150 series with a TTL or RS-485 connection.
Dynamixel X540-150 gear set: for replacing your defective gears
This Dynamixel servo gear set is compatible with all the XH540 and XM540 models that have a reduction ratio of 150:1.
You can use these gears to directly replace your existing gears once they are worn out. See the video tutorials in the resources for instructions on how to do this.
Technical specifications of the Dynamixel X540-150 gear set
Compatible Dynamixel servos: XH540-W150-R, XH540-W150-T, XH540-V150-R, XM540-W150-R, XM540-W150-T
1 X540 gear #1
1 X540 gear #2
1 X540 gear #3
1 X540 wheel gear
Grease
1 calibration adapter for X540
2 ball bearings
Customers who viewed this item also viewed