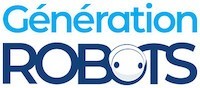 My Cart
0
item(s)
-
€0.00
There are no more items in your cart
903-0196-001 MX-28 Gear/Bearing Set Long-lasting and robust
Used to replace defective gears and bearings in Dynamixel MX-28R and MX-28T servo motors, this set has been designed in such a way as to be extremely robust and provide the longest life. Each gear has a special metal coating intended to reduce the effects of abrasion. You also get a magnet for the wheel gear and 2 wheel bearings.
Note: The servo motors in the Dynamixel MX series use a contactless position sensor that has to be recalibrated each time you change a part. The Dynamixel Wizard is the preferred tool for easy self-calibration.
Compatibility of the Dynamixel MX-28 Gear/Bearing Set
This set of gears and bearings is specially designed for replacing the used parts of your Dynamixel MX-28 servo motor, a high-precision servo motor offering many features for your DARwin-OP mobile robot.
Please note that this set of gears and bearings is not compatible with the DX-117, RX-10, RX-24F, and RX-28 models.
Technical specifications of the Robotis 903-0196-001 MX-28 Gear/Bearing Set
This set of gears and bearings includes:
4 gears
1 wheel gear
Grease
1 calibration tool
2 wheel bearings
Compatible with the Dynamixel MX-28
Not compatible with the DX-117, RX-10, RX-24F, and RX-28
Resources for the Dynamixel MX-28 Gear/Bearing Set
Below you will find a video tutorial to help you replace the gears:
Customers who viewed this item also viewed