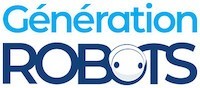 My Cart
0
item(s)
-
€0.00
There are no more items in your cart
Hokuyo is a Japanese company specialized in sensors and automation technologies. They design 2D and 3D scanning laser rangefinders (LiDAR) to measure and map the sensor's surroundings. They are widely used in mobile robotics and are fast and accurate. Reliable and very efficient, they are affordable and often chosen for advanced prototyping.
Main Hokuyo LIDAR Ranges
Hokuyo offers several ranges of LIDAR to meet the needs of different applications:
UST series: This range of LIDAR includes compact and lightweight models for use in robotics and autonomous navigation applications. UST series LIDARs offer high resolution, low latency, and high measurement accuracy.
UTM series: The UTM series includes more robust and durable LIDARs designed for use in harsh industrial environments. UTM series models are capable of measuring distances up to 30 meters with an accuracy of ± 30 mm.
UXM series: This range of LIDAR is designed for surveillance and security applications. UXM series models offer a wide measuring range of up to 150 meters and high precision for detecting objects even in low-light conditions.
URG series: URG series LIDARs are entry-level models designed for use in robotics and mapping applications. URG series models are compact, lightweight, and offer high resolution with low power consumption.