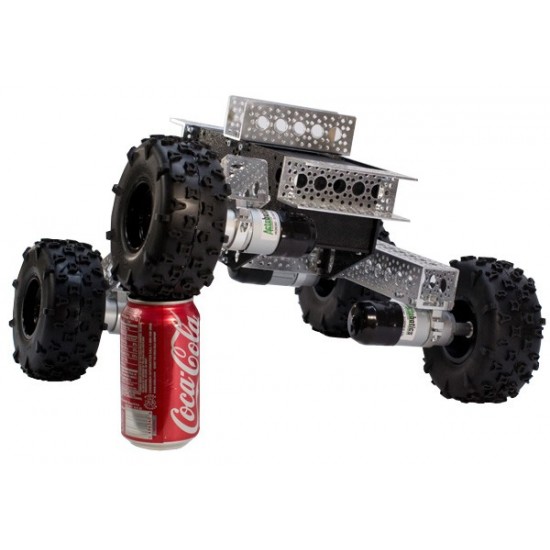 4WD Nomad™ robotics chassis
4 strong, large wheels, 4 powerful motors, a solid, easily adaptable structure – the ServoCity Nomad Buggy robot is just waiting to accompany you on new adventures!
Including €0.92 for ecotax
4WD Nomad™ robotics chassis: the all-terrain king
The 4WD Nomad™ robotics chassis is a particularly strong outdoor robot chassis on account of its aluminium structural components and central chassis made of ABS plastic. This creates a great protective shell for tackling any outdoor terrain. It also has everything else one might expect of an off-road robotics kit worthy of the name, including 4 wheels with large, high-traction tyres and 4 metal HD planetary gear motors equipped with ball-bearing suspensions. The result? A buggy worthy of a full-size model that you can customise and equip at will.
An off-road robot chassis, a new playground
Knowing you can send your Nomad Buggy out onto even the stoniest of roads is of course a pleasure in itself. But it wouldn't be complete if you couldn't also adapt your off-road mobile robot chassis to meet all your needs. The inner cavity is large enough to equip your robot with a LiPo battery and some electronic modules. In addition, its ABS plastic chassis allows you to drill numerous holes to attach any accessories you choose. And the kit's architecture is designed to effectively hide motor cables, to keep your buggy neat and tidy!
Technical specifications of the 4WD Nomad™
Assembly requires:
1 Phillips hex screwdriver
1 x 7/64" hex key
1 x 3/32" hex key
The kit includes:
1 x 152.4 mm aluminium channel
2 x 304.8 mm aluminium channels
3 x 114.3 mm aluminium channels
4 robot wheels
4 off-road tyres
4 x 313 rpm HD precision planetary gear motors
4 x 12 mm hex wheel adapters
4 round grommets
5 x 90° D quad hub mounts
1 shaft: D shaft (stainless steel; diameter 6.35 mm, length 203.2 mm)
5 side mount brackets
2 set screw hubs, 0.635 mm bore
1 bearing mount, quad block, 0.635 cm bore
2 flanged ball bearings, 8 mm bore, 22 mm outside diameter
12 x 6.35 mm shaft spacers
4 x 6.35 mm 6-32 socket head machine screws (x 25)
4 attachment blocks
4 x 32 mm clamping motor mounts
4 gear motor endcaps
7 ABS enclosure panels
Dimensions: 403 x 203 mm
Weight: 2.9 kg
Maximum speed: 8 km/h @ 12V
Tyre size: 137 mm diameter, 57 mm wide
Resources for the 4WD Nomad™ Buggy all-terrain robot
Impatient to find out what your 4WD Nomad™ Buggy will look like fully assembled? Begin with this video!
Customers who viewed this item also viewed