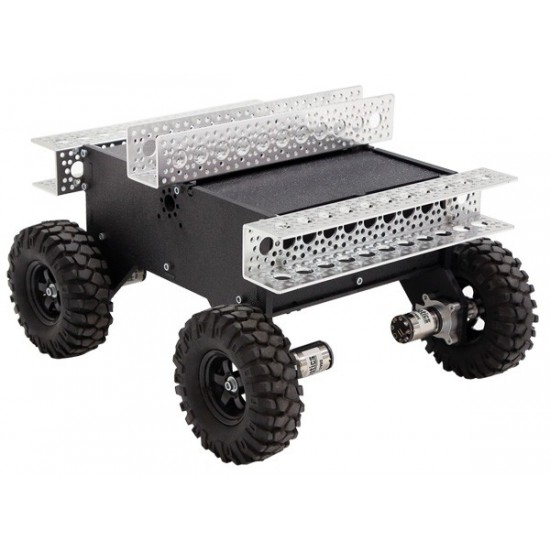 Warden™ Robotics Chassis
The Warden chassis for Actobotics robot is designed for fans of outdoor navigation and extreme driving. It's robust and agile, and will keep all sorts of roboticists busy for hours on end.
Including €0.92 for ecotax
Warden mobile robot: a real chameleon!
The Warden™ robotics chassis is an outdoor platform built around Actobotics structural parts: made of aluminium and ABS plastic, it's sturdy and offers the most hard-to-please robotics engineers a truly customisable architecture. Its panels give you access to a large storage area, providing a quick and easy way to reach your batteries and other electronic components: on-board computer, microcontroller, motor drivers, motion controllers... You can also attach other devices on the outside, such as a video camera, using the hub patterns or holes that you can drill into the plastic chassis.
An off-road robotics chassis that's easy to assemble
Assembly only requires a few hex keys, and you can watch the step by step assembly video (see below in the Resources section) to mount your chassis in no time. With its off-road tyres and powerful metal HD planetary gear motors, this rover can cope with some pretty rugged terrain.
Technical specifications of the Warden off-road mobile robot
Assembly requires (not included):
1 x 7/64" hex key
1 x 9/64" hex key
1 x 3/32" hex key
The kit includes:
4 x 195 rpm 3–12V precision planetary gear motors
4 black robot wheels
4 x 4,3'' robot tyres with foam
4 x 12 mm type C hex wheel adaptors, 4 mm bore
4 type D clamping hubs, 22 mm bore
8 B attachment blocks
3 x 9'' aluminium channel plates
6 x 90° dual side mounts
25 x 0.250" x 6-32 socket head cap screws
50 x 0.500" x 6-32 socket head cap screws
7 ABS plastic chassis plates
Dimensions: 215 x 165 x 63 mm
Weight: 1.83 kg
Tyre size: 109 mm (off-road tyres)
Resources for the Warden off-road robotics kit
Click, watch and assemble your Warden off-road robotics kit!
Customers who viewed this item also viewed