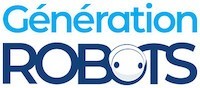 My Cart
0
item(s)
-
€0.00
There are no more items in your cart
Founded in 2014, RoboSense is a major player in new technologies, industrial collaborations and mass production. RoboSense is revolutionizing the LiDAR world with their compact, inexpensive, ROS compatible, long range (150m, 200m) and high accuracy LiDARs. Designed for autonomous driving applications, these laser rangefinders apply to autonomous cars, utility and logistics vehicles, robots, robotaxis, robobus, but also surveillance or exploration mobile robots.
Active filters
Scanning frequency: 5-20 Hz 
The RoboSense RS-Bpearl 3D laser range finder offers an extended field of view and effective blind spot detection for equipping robots and automated equipment without breaking the bank.
Delivery within 4-5 weeks
The RS-Lidar-M1 Laser Rangefinder is a high resolution sensor designed for equipping vehicles with autonomous navigation systems. It facilitates decision making by detecting, analyzing and classifying possible obstacles.
Delivery within 4-5 weeks
The future of autonomous vehicles is shaping up with Robosense's RS-Ruby 3D laser Rangefinder, a Lidar with impressive performance and effecient in all weathers.
Delivery within 4 weeks (on order)