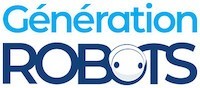 My Cart
0
item(s)
-
€0.00
There are no more items in your cart
The Shenzhen-based RoboSense company, has developed a high-performance LIDAR that features real-time data pre-processing and a 'gaze' function similar to human eyes. Some have a 200m range, with a high accuracy. They will be used on autonomous cars, mapping projects, surveilance, exploration, etc.
Active filters
Scanning range: 30-40 m 
The RoboSense RS-Bpearl 3D laser range finder offers an extended field of view and effective blind spot detection for equipping robots and automated equipment without breaking the bank.
In Stock