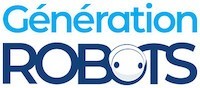 My Cart
0
item(s)
-
€0.00
There are no more items in your cart
List of products by brand Robotis
Robotis is a South Korean company specializing in the design and manufacturing of educational robotics components and robots for learning robotics and engineering. Since its establishment in 1999, Robotis has emerged as a global leader in robotics education.
A wide range of products
The Robotis product line includes a variety of educational robotics components and kits such as Dynamixel servomotors, controllers, sensors, development boards, software, and instruction manuals. These products are designed to be easy to assemble and use, making it easy for beginners in robotics to learn the basics of robot programming and construction.
A brand focused on robotics education
Besides components and kits, Robotis also offers learning and training programs for schools, universities, and professional training centers. These programs are designed to help students acquire the skills necessary to become qualified robotics engineers and programmers. Robotis has established partnerships with many schools and institutions worldwide to promote robotics education.
Robotis is also involved in research and development projects to create autonomous robots and cutting-edge technologies for the robotics industry. The company has developed advanced humanoid robots such as the Robotis Mini, which can walk, run, and perform complex tasks.