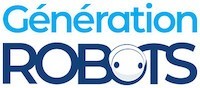 My Cart
0
item(s)
-
€0.00
There are no more items in your cart
AmigoBot mobile robot
The AmigoBot, friendly as its name suggests, is a mobile robot designed by Adept and ideal for teaching and research. Small but with a robust construction, it offers a very comprehensive programming interface and many possibilities for motion and interaction. AUSLAUFARTIKEL
AmigoBot, your new companion for teaching and research
Equipped with 2 highly mobile wheels and an embedded operating system opening up new prospects for programming, this mobile robot by Adept has an attractive, sturdy design. The AmigoBot arrives fully assembled and ready to use once you have installed its programming software on your computer.
This robot stands out from the crowd because it is very easy to use and includes various programming tools. You can use the integrated Pioneer SDK, an ROS featuring an exhaustive library of exploitable codes and various tools:
Whether used for research or education, AmigoBot will no doubt become a loyal friend!
A wide spectrum of customising options
The basic version of the AmigoBot can be programmed with a serial cable but you can also use the optional USB adapter, or purchase the optional wireless interface to interact with the robot using WiFi (included in this version).
Other accessories are available, such as grippers to grab objects, an on-board camera with remote control, etc!
Amigobot Capabilities and Runtime Test
Technical specifications of the AmigoBot robot by Adept
Weight: 3.6 kg
Maximum payload: 1 kg
Turn radius: 0 cm
Swing radius: 16.5 cm
Max. speed: 1 m/s
Rotation speed: 100°/s
Max. traversable step: 1.5 cm
Max. traversable grade: 5 %
Traversable terrain: indoor, wheelchair accessible
Autonomy: 2-3 hours
Charge time: 6 hours (standard) or 2 hours (optional high-capacity charger)
Supply voltage: 3.3V, 5V, or 12V
Battery capacity: 2,1 Ah
Battery chemistry: lead acid
Ultrasonic distance sensors: 1 each side, 4 front, 2 rear
Encoding speed (1 encoder on each motor): 39,000 ticks/wheel revolution
Processor: 44 MHz Renesas SH2-7144
Analog-to-digital converter: 3 × 1024 bits
2 x RS-232 ports
Robot/accessories power indicator
System power/battery recharge indicator
Piezoelectric speaker volume indicator
Controls: reset, motors test
1 year guarantee
Optional hardware:

Wireless communication interface between the robot and the computer (included in this version) on which you have installed the software
Analog remote camera
Preconfigured wireless access point for use with optional robot wireless interface
Gyroscope/accelerometer for increased positional accuracy
Resources for the AmigoBot robot
Download the full documentation to become friends with AmigoBot!
Customers who viewed this item also viewed