TurtleBot3 Waffle: your mobile research robot with an eagle-eyed view
Sturdy despite its small size, TurtleBot3 Waffle differs from its Turtlebot3 "Burger" cousin in its flattened format making it look like a waffle, as its name indicates. You can upgrade it with just about everything you can imagine: a robotic arm, servos, an embedded computer...
The TurtleBot3 Waffle can move a payload of up to 30 kg (versus 15 kg for the Burger version) at a slightly faster translational velocity.
Above all, it is equipped with the 3D Intel® Realsense™ R200 camera module, on top of all the items already found in the TurtleBot3 Burger (IMU and HLS-LFCD2 sensor).
Thanks to the Intel® Realsense™ technology, you'll benefit from a long range HD colour camera with an infrared sensor for movement detection.
Turtlebot3 Waffle : a world of exciting applications
The Turtlebot3 Waffle is designed for both robotics teachers and researchers and offers a wide array of applications. It's mostly a mobile robot made for autonomous navigation (line following and obstacle detection) and robotic manipulation.
Just like the TurtleBot3 Burger, the Waffle runs ROS, the world's most popular robotic OS, compatible with more than 65 robots to this date.
This educational and research mobile robot is highly customisable and fully open-source (hardware and software), making it a real ally to experimental robotics fans!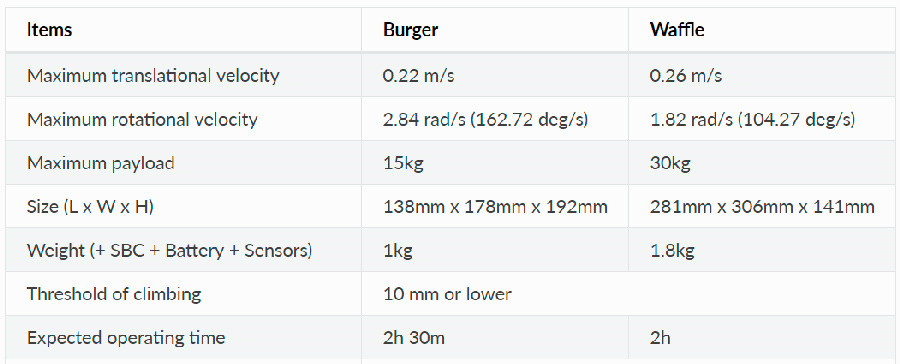 Technical specifications of the TurtleBot3 Waffle robot
Maximum translational velocity: 0.26 m/s
Max. rotational velocity: 1.82 rad/s (104.27°/s)
Max. payload: 30 kg
Dimensions: 281 × 306 × 141 mm
Li-Po battery 11,1V 1800mAh 19.98Wh 5C
Charger input: 100-240V 50/60Hz 2.0A
Charger output: +12V 5A
Weight (+ SBC, battery and sensors): 1.8 kg
Operating time: about 2 h
Charging time: about 2 h 30 m
2 Dynamixel XM430-W210-R servos
SBC: Intel® Joule™
Embedded controller: Open-CR (32-bit ARM® Cortex®-M7)
IMU: gyroscope 3 axis, accelerometer 3 axis, magnetometer 3 axis
Intel® Realsense™ R200 camera
HLS-LFCD2 sensor
All the material and screws required for assembly are included
Resources for the 901-0119-200 robot
You'll find lots of useful additional information about the TurtleBot3 Waffle robot online for free. Here is a recap:
Customers who viewed this item also viewed