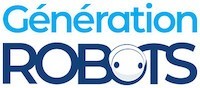 My Cart
0
item(s)
-
€0.00
There are no more items in your cart
The TurtleBot is an affordable, versatile, and user-friendly indoor mobile robot that offers many possibilities for learning and research in mobile robotics. It is programmable with ROS and provides advanced capabilities. This robot is particularly suitable for mapping (SLAM) and navigation. It is widely used in universities, research labs, and companies to develop new technologies and solve complex problems in robotics.
A complete mobile robot for education and research
It is equipped with sensors, including LiDAR and cameras, to navigate and perceive its environment. It was developed to facilitate learning and research in mobile robotics and is used in many applications such as mapping, object recognition, and surveillance.
The TurtleBot has a payload platform to carry additional equipment, making it a very versatile mobile robot. It is also equipped with an onboard computer, a navigation system, and various programming interfaces that allow developers to customize the robot's behavior according to their needs.
Besides its great flexibility, the TurtleBot is also elementary to use and program. Thanks to its modular design, it is possible to easily extend or customize it with accessories such as robot arms or additional sensors. Moreover, the open-source community around the TurtleBot offers active support to users, further facilitating its use and development.
TurtleBot 3 vs TurtleBot4: What are the differences?
| | | | | |
| --- | --- | --- | --- | --- |
| | TurtleBot 4 Standard | TurtleBot 4 Lite | TurtleBot 3 Burger | TurtleBot 3 Waffle Pi |
| Camera | OAK-D Pro camera | OAD-D Lite camera | - | Raspberry Pi camera |
| LiDAR | RPLIDAR-A1 | RPLIDAR-A1 | LiDAR LDS-01 | LiDAR LDS-01 |
| Microcontroller | Raspberry Pi 4 B (4 Go) | Raspberry Pi 4 B (4 Go) | Raspberry Pi 3 or 4 B (2 or 4 Go) | Raspberry Pi 3 or 4 B (2 or 4 Go) |
| Payload | 9kg (15 kg in costum) | 9kg (15 kg in costum) | 15 kg | 30 kg |
| Autonomy | 2h30 – 4h | 2h30 – 4h | 2h30 | 2h |