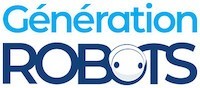 My Cart
0
item(s)
-
€0.00
There are no more items in your cart
List of products by brand The Construct
The Construct is a renowned company specializing in advanced online courses in the fields of Robot Operating System (ROS) and robotics. It has quickly established itself as a major player in robotics education, enabling students, robotics professionals, and technology enthusiasts worldwide to acquire valuable skills in these ever-evolving domains.
Expertise in ROS
ROS is a flexible and powerful operating system designed specifically for robots. It has become the standard in robotics due to its versatility and active developer community. The Construct has developed exceptional expertise in teaching ROS, allowing learners to master the intricacies of this system and apply it to various robotics projects.
Diverse and Tailored Courses
The Construct offers a diverse range of courses to cater to the needs of various audiences. Whether you're a robotics student looking to gain practical skills, a robotics professional wanting to stay updated on the latest ROS advancements, or simply a technology enthusiast eager to explore the world of robotics, you'll find courses tailored to your needs.
Courses are meticulously designed to provide an immersive learning experience. They cover various topics, from autonomous navigation and robot perception to complex motion planning. Additionally, The Construct offers customized courses to address specific requirements.
Online Learning Platform
Through its user-friendly online learning platform, The Construct enables learners to access courses from anywhere in the world, anytime. Busy professionals and students particularly appreciate this flexibility.
Active Community
Besides courses, The Construct is committed to fostering an active learning community. Learners can interact with fellow students, share knowledge, and ask The Construct's experts questions. This interaction promotes a collaborative learning environment and encourages problem-solving.
Ready to Get Started?
Génération Robots is delighted to be an official partner of The Construct. Explore the online ROS courses for various robots, including TurtleBot 3 by Robotis, Jackal by Clearpath Robotics, Open Manipulator, and more below. Interested in a customized course for a specific robot? Contact us, and we can assist you!