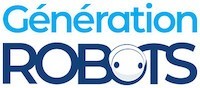 My Cart
0
item(s)
-
€0.00
There are no more items in your cart
If you need an indoor mobile robot for your research project, look no further. You will find here high performance indoor mobile robots brands such as Clearpath Robotics, Khepera, Turtlebot... We can also provide accessories for each platform, do not hesitate to contact us for more information.
The agile, perceptive and highly observant SMART robot is an intelligent mobile platform and an expert in navigating hostile environments. It avoids all obstacles while mapping its environment in real time.
Product available for orders
The Lidarbot Odos mobile base is an AGV equipped with a Lidar telemeter and mounted on 4 Mecanum wheels. It is remotely controlled with a joystick allowing speed control by PWM or voltage regulation.
In Stock