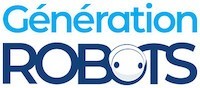 My Cart
0
item(s)
-
€0.00
There are no more items in your cart

3G/GPRS Shield for Arduino, Raspberry Pi, and Intel Galileo
Excellent news for project developers wishing to tackle the Internet of Things: the 3G/GPRS Shield compatible with Arduino, Raspberry Pi, and Intel Galileo offers you an ultra-high-speed cellular network connection!
3G/GPRS Shield: connect and locate
The Internet of Things... ring any bells? The 3G/GPRS Shield has everything it takes to fully satisfy your connectivity needs by allowing you to access the 3G HSPA and WCDMA cellular networks. The very best in wireless communication!
And, as its name suggests, this shield is of course compatible not only with your Arduino , but also with your Raspberry Pi and your Intel Galileo. Please note that you must make sure the Arduino/Raspberry Pi jumper is in the Arduino position when you use this board, at the risk of damaging your shield. The Raspberry Pi position should only be used when the shield is connected to a Raspberry Pi.
3G Shield: improve it yet further!
Although extremely efficient when used alone, the 3G/GPRS Shield for Arduino, Raspberry Pi, and Galileo becomes even more formidable when combined with its audio/video kit, equipped among other things with the brand-new mini 2MP (1600 x 1200) UXGA resolution video camera. You can then use it to listen to your MP3 files and to save photos and videos.
To access these features, don't forget to update your firmware by running the relevant program in Windows.
Technical specifications of the 3G/GPRS Shield for Arduino, Raspberry Pi, and Galileo
Compatible with 3G HSPA and WCDMA networks
Functions as a standard 3G modem in Linux, Windows, and MacOS
Communicates directly with web servers via a secure HTTP/HTTPS interface
Downloads files directly via secure FTP/FTPS
Sends and receives mails with POP3/SMTP
This 3G module does not have a GPS receiver
Resources for the 3G/GPRS Shield for Arduino, Raspberry Pi, and Intel Galileo
You can start straight away thanks to the resources available below:
https://www.cooking-hacks.com/documentation/tutorials/3g-gps-shield-arduino-raspberry-pi-tutorial/
Customers who viewed this item also viewed