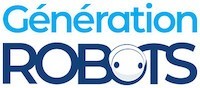 My Cart
0
item(s)
-
€0.00
There are no more items in your cart
Spot Explorer Package
Boston Dynamics |
A-000000-04792
Agile and vigilant on both indoor and outdoor missions, the Spot robot is not at all afraid of rough terrain or poor light. This Explorer Package includes batteries, a charger and carrying case!

TECHNICAL SPECIFICATION   |  ASK FOR A DEMO
His name is Spot
Maybe you've always dreamed of owning a dog but spend your life at the office? Spot is a multi-talented mobile quadruped robot, ideal for helping you out with daily tasks:
Can operate day and night, even in low light conditions
Is an agile robot capable of going up and down stairs, getting up after a fall and walking on uneven ground
Can travel at speeds of up to 5.6 km/h, carry loads of up to 14 kg and operate non-stop for 90 minutes
Includes a detection system for avoiding obstacles and moving around them at a distance predefined by the user
Comes with batteries that can be recharged in 2 hours, so you can recharge one battery while Spot uses the other
Spot comes with its own tablet controller, which makes configuration much easier. And its pre-installed Spot app allows you to program simple missions.
Spot is also a scalable mobile robotics platform. It's easy to set up and you can add extra material, including a camera or robotic arm. Plus there's a Spot SDK designed for developers wanting to test new surveillance, service or exploration applications.
Spot Explorer Package: your nomadic robot
The Explorer Package designed by Boston Dynamics offers everything you need to transform Spot into a fully autonomous mobile robot.
Included in the package:
1 Spot robot
2 Spot batteries
1 Spot charger
1 tablet controller and charger
1 robot case for storage and transportation
1 power case for battery and charger storage and transportation
1 calibration panel
A Python client package for the Spot APIs
Software updates when available
Multiple industrial uses
In addition to the kind of opportunities such a platform can offer for education and application development, the Spot mobile robot is rapidly becoming a must in lots of industries:
Spot has already been used as an inspection and risk prevention robot on an oil platform, and is a powerful mobile surveillance tool for a factory or warehouse
It's also of valuable help in the service sector for carrying supplies and various tasks, able to navigate from office to office serving numerous purposes

Technical specifications of the Spot mobile quadruped robot and Explorer Package
Dimensions: 1100 x 500 x 840 x 191 mm
Weight: 32.5 kg
Battery capacity: 605 Wh
Average runtime (no payload): 90 min.
Standby time: 180 min.
Recharge time: 120 min.
Weight: 4.2 kg
Battery charger:

Input voltage: 100-240 VAC, 50/60 Hz, 5.5A max.
Output: 35-58.6 VDC, 7.2A max
Operating temperature: 0 to 40°C

Connectivity: WiFi 2.4 GHz b/g/n, Gigabit Ethernet
Ingress protection: IP54
Operating temperature: -20 to 45 °C
Terrain sensing:

Horizontal field of view: 360°
Range: 4 m
Lighting: > 2 Lux
Collision avoidance: maintains set distance from stationary obstacles.

Max. speed: 1.6 m/s
Max. slope: +/- 30°
Max. step height: 300 mm
Max. payload: 14 kg
Mounting area: 850 x 240 x 270 mm
Mounting interface: M5 T-slot rails
DB25 2-port connector
Power supply: unregulated DC 35-58.8V, 150W per port
Integration: available software API and hardware interface control documentation
Robot case specifications: 927 x 546 x 464 mm; 47.6 kg
Power case specifications: 559 x 432 x 267 mm; 18.1 kg with 1 battery; 22.7 kg with 2 batteries
Controller:
Dimensions: 143.6 x 274 x 53 mm
Weight: 580 kg
Touch screen size: 7" diagonal
Resolution: 1920 x 1200
Resources for the Boston Dynamics SPOT robot
API protocol - SPOT robot
Wiki ROS - Spot robot
Data sheet
Platform

ROS

Usage

Outdoor

Usage

Indoor

Max. speed

3,5-5,5 km/h

Payload

6-30 kg
Customers who viewed this item also viewed