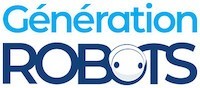 My Cart
0
item(s)
-
€0.00
There are no more items in your cart
If you need an indoor mobile robot for your research project, look no further. You will find here high performance indoor mobile robots brands such as Clearpath Robotics, Khepera, Turtlebot... We can also provide accessories for each platform, do not hesitate to contact us for more information.
The TC200 mobile base is an ultra-flexible tool for teaching industrial robotics. You can also add numerous accessories, including collaborative robot arms, sensors and other electronic components.
Product available for orders
Both robust and compact, the Boxer Mobile Robot is an indoor platform designed for developing robotic solutions and technologies. 100% ROS, it offers a wide range of possibilities for researchers and designers.
Product available for orders
This 100% ROS four-wheel drive mobile base is an outdoor pro. Use this durable Rover to carry heavy loads on any terrain.
Product available for orders