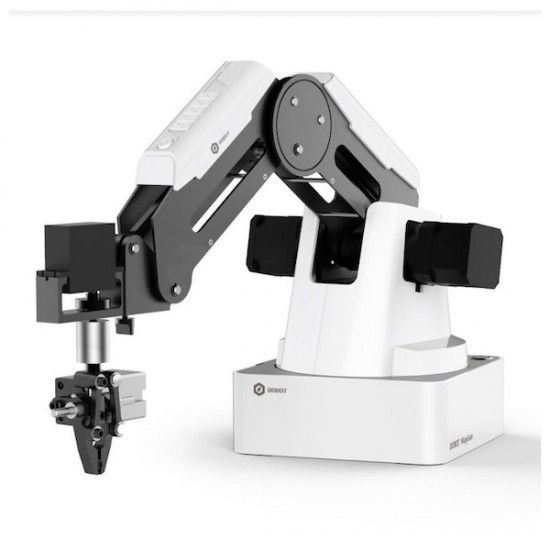 Dobot Magician Robotic Arm (basic version)
The Dobot Magician educational robotic arm is attractive, robust and intelligent. This standard version of the arm will fit in the engineering schools and university institutes of technology curriculum – and even certain sixth form pupils studying science. It's a versatile, fully controllable and programmable robot that holds enormous development potential!
Including €2.50 for ecotax
Dobot Magician, the robotic arm for STEM education
Dobot Magician is a robotic arm designed for schools that allows pupils to perform a wide range of tasks with formidable precision. Dobot Magician can write, draw, do 3D printing, handle objects weighing up to 500 g and even suck objects up with its small suction cup.
You can attach various tools to the end of the arm by simply loosening or tightening a screw, to replace a pencil with an extruder, a gripper and any number of other items.
Please note that the Basic version of the Dobot does not include the laser tool.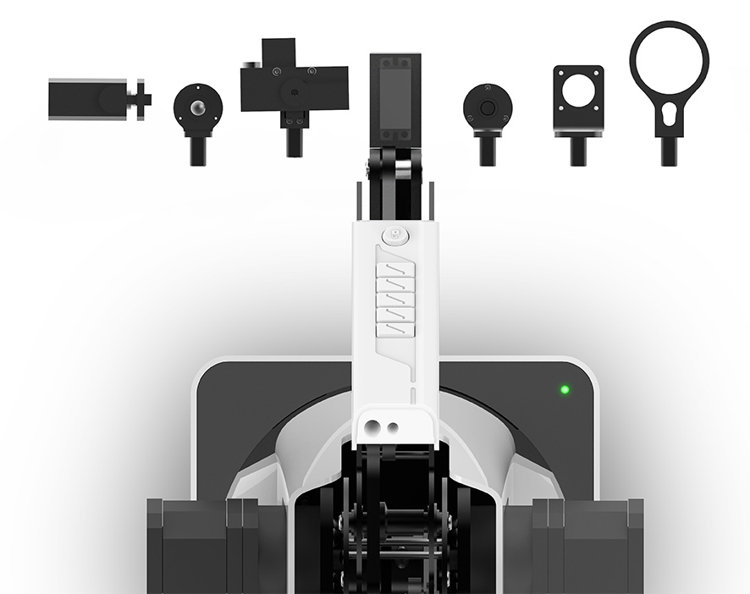 This robotic arm designed for university institutes of technology and higher education has a comprehensive open-source programming environment, extremely useful for teaching STEM. In the resources below you will find complete download links for its SDKs and apps, including not only DobotStudio but also DobotBlockly, a visual programming editor, Repetier-Host and even a complete code library.
An ultra-versatile robotic arm
The basic Dobot Magician kit is highly evolutive. Because it's a robotic arm designed for education, it leaves a lot of room for the imagination, allowing you to install a wide range of tools at its end. There are 13 programmable I/O ports for installing numerous sensors and actuators to improve its performance. Moreover, the robot can be programmed by people new to programming thanks to its Blockly interface.
There are other accessories available, including a Dobot linear rail and a mini-conveyor belt. There is also a more comprehensive educational version, notably including Bluetooth and WiFi modules and a joystick control.
Technical specifications of the Dobot Magician robotic arm
4 axes
Maximum payload: 500g
Maximum reach: 320 mm
Position repeatability (control): 0.2 mm
Communication: USB/WiFi/Bluetooth
Power supply: 100–240V, 50/60 Hz
Power In: 12V/7A DC
Consumption: 60W max.
Working temperature: -10 to 60°C
Net weight: 3.4 kg
Gross weight: 8 kg
Base dimensions: 158 x 158 mm
Materials: aluminium (alloy 6061), ABS engineering plastic
Dobot integrated controller
Horizontal mounting
Dimensions: 307 x 224 x 330 mm
Box dimensions: 340 x 300 x 400 mm
Extensible I/O interfaces: 10 I/O (configurable as analogue inputs or PWM outputs); 4 controllable 12V power outputs; communication interfaces (UART, Reset, Stop, 12V, 5V and 2 I/O included); 2 steppers
Axis movement:
Joint 1 (base):

Range: -90° to 90°
Max. speed (250 g workload): 320°/s

Joint 2 (rear arm):

Range: 0° to 85°
Max. speed (250 g workload): 320°/s

Joint 3 (forearm):

Range: -10° to 95°
Max. speed (250 g workload): 320°/s

Joint 4 (rotation servo):

Range: 90° to -90°
Max. speed (250 g workload): 480°/s

Available accessories (basic version):
Dobot robotic arm
Vacuum suction cap:

Diameter: 20 mm
Pressure: -35 Kpa

Gripper:

Range: 27.5 mm
Drive type: pneumatic
Force: 8N

3D printer kit:

Max. print size: 150 x 150 x 150 mm
Material: PLA
Resolution: 0.1 mm

Writing and drawing kit:

Pen holder diameter: 10 mm
Applications
Software: DobotStudio, Repetier-Host, GrblController3.6, DobotBlockly (visual programming editor)
Software development kit: Communication Protocol, Dobot Program Library
Resources for the Dobot Magician
Still intrigued by your Dobot robotic arm? Below you will find a full collection of links and videos to become an expert!
Customers who viewed this item also viewed