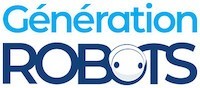 My Cart
0
item(s)
-
€0.00
There are no more items in your cart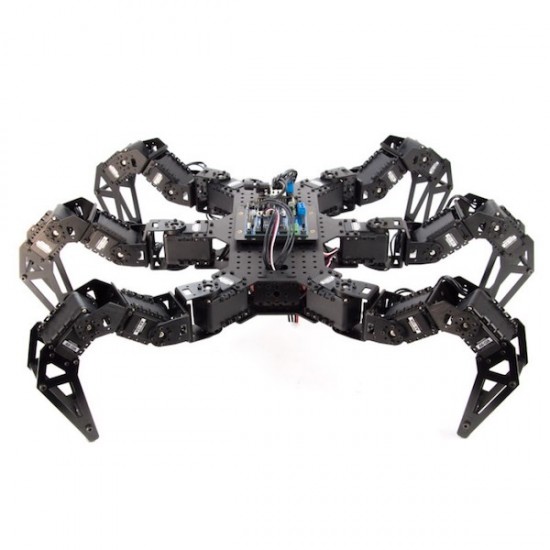 PhantomX AX Metal Hexapod Mark III Kit (full kit with AX 12A servomotors)
Interbotix Labs and Trossen Robotics have released a complete robotics kit for their popular PhantomX Mark III, one of the most convincing robots with Dynamixel servos on the market.
Including €1.67 for ecotax
Trossen Robotics Hexapod kit: the new generation of open-source robots
In this new, comprehensive version, PhantomX comes with everything you need for a fully-featured robotic platform, from mechanical parts to software. Your "spider robot" is fitted with 18 Dynamixel AX-12A servo motors controlling 6 articulated legs with 3 degrees of movement and an ArbotiX robocontroller by Interbotics Labs.
Above all, the PhantomX AX Mark III robotics kit comes with a fully open-source environment designed by the most enthusiastic robotics engineers. Refer to the "Resources" section to discover a comprehensive code library to which you can add the samples of your choice!
Trossen Hexapod: a robot to scale up
You can use the CAD files to 3D print replacement or additional structural parts for your hexapod robot, and use the expansion kit to mount even more sensors and actuators onto your mobile platform. Already impressive from the start, your robot grows with you as you learn more and more about robotics.
The PhantomX Mark III is an excellent choice for learning robotics as well as experimenting with robots. It offers robotics students, amateur engineers or labs hundreds of hours of fun activities. The assembly manual has been revised and updated to make it more accessible. There's nothing you can't do now!
Technical specifications of the PhantomX AX KIT-PXC-HEX-MK3-AX12 robot
Included in the kit:
Aluminium body plates
Nuts and blots
Hex drivers
AX/MX power hub
6 F1 Bioloid frames
12 F2 Bioloid frames
6 F3 Bioloid frames
3-Pin Dynamixel cables
ArbotiX robocontroller
11.1V 3S 4500 mAh LiPo Battery and wiring harness

LiPo battery charger starter kit
USB A/Mini-B cable

Plastic safe thread-locker
18 Dynamixel AX-12A actuators
As of August 2020, the kit is supplied without xBee or Arbotix Commander modules.
Resources for the KIT-PXC-HEX-MK3-AX12 robot
This wonderful machine is easily tamed, as long as you get off to the right start – and you'll find all the documentation, guides, and code libraries you need right here!
Anonymous A. published the 16/02/2019 following an order made on 06/02/2019
Very happy with this hexapod, everything needed is included in the price and online building instructions are pretty much straightforward. NUKE code is good but the Phoenix code really rocks!
Customers who viewed this item also viewed