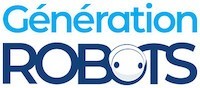 My Cart
0
item(s)
-
€0.00
There are no more items in your cart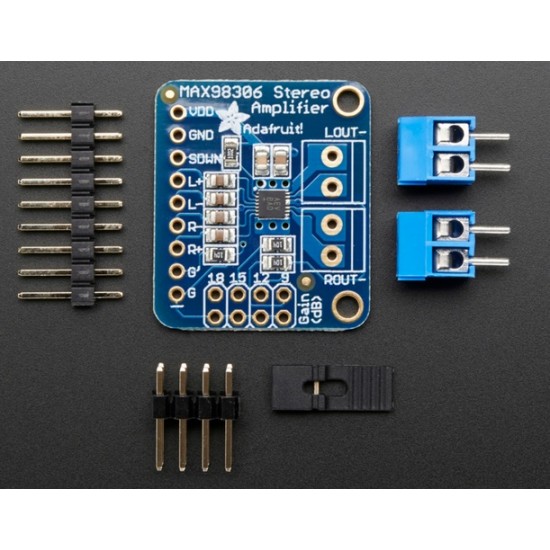 MAX98306 Stereo 3.7W Class D Audio Amplifier
Adafruit Industries |
A-000000-01486
Compact and yet highly effective, the MAX98306 Stereo 3.7W Class D Audio Amplifier is the perfect device for your portable audio creations on
Arduino
!
Including €0.01 for ecotax
The Stereo 3.7W Class D Audio Amplifier: small in size, huge in power!
With the MAX98306 Stereo 3.7W Audio Amplifier, you will reap the undeniable benefits of an amplifier controlled by a class D chip (ensuring an efficiency of about 90%, compared with class AB amps which don't generally reach more than 50%) in an ultra-compact format allowing you to embark on a large number of creations in the Arduino environment!
The MAX98306 amplifier is therefore able to deliver two 3.7W channels through loudspeakers with an impedance of 3Ω.
It comes with an assembled and tested breakout board equipped with a 1.0 uF capacitor.
Your amplifier also comes with:
A header for connecting your breakout board to a breadboard;
3.5 mm screw terminals blocks allowing you to easily attach and detach your speakers (not supplied);
4 connection cables and 4 jumpers to increase the gain from 6 to 18 dB (5 possible gains)
If you already have speakers with an impedance of 3Ω or more, you will have everything you need to rapidly get your Stereo 3.7W Class D Audio Amplifier up and running!
The MAX98306 Stereo Amplifier: ideal for showing originality
In addition to developing a simple DIY amplifier, there are many small and fun ways of playing with this ultra-compact amplifier.
Including building a portable sound system, a device for changing your voice or a beach bag with a built-in audio system for listening to your music everywhere you go!
Technical specifications of the MAX98306 Stereo 3.7W Class D Audio Amplifier
Output power: 3.7W @ 3Ω, 10% THD, 1.7W @ 8Ω, 10% THD, with a supply voltage of 5V
83 dB PSRR @ 217 Hz
Spread spectrum modulation and active emissions limiting
5 selectable gains: 6 dB, 9 dB, 12 dB, 15 dB and 18 dB; you can select the pin with a jumper or by installing the G & G' breakout pins
Excellent click-and-pop suppression
Thermal, short-circuit and overcurrent protection
Very low current: 2 mA quiescent; 10 uA in shutdown mode
Dimensions: 28.25 x 24.15 x 3.03 mm
Weight: 2.33 g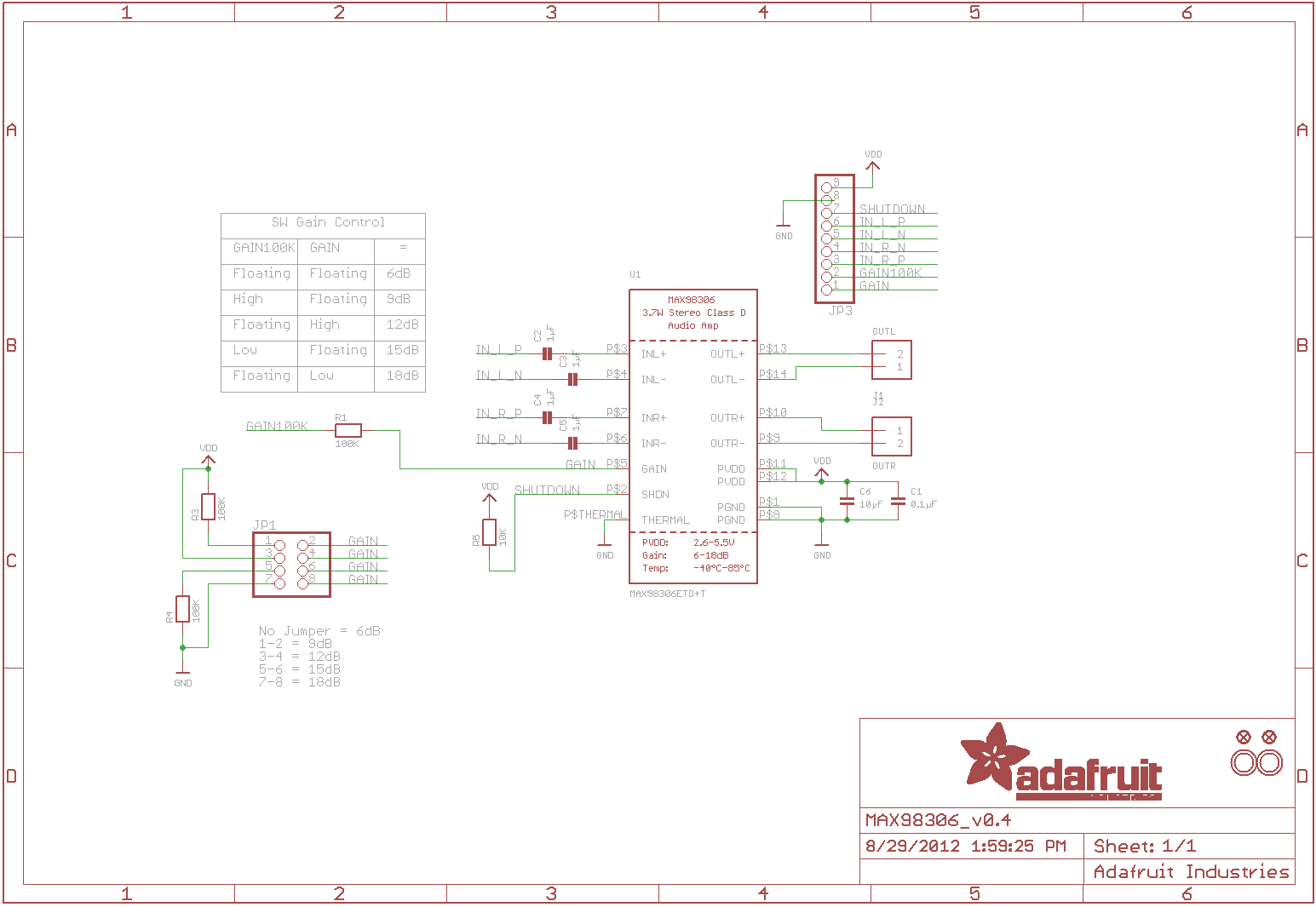 Resources for the MAX98306 Stereo 3.7W Amplifier
Take a look at the following to help you get to grips with the Stereo 3.7W Class D Audio Amplifier:
A tutorial for creating a "musical" bag
A tutorial introducing you to the joys of the "voice changer"

Customers who viewed this item also viewed