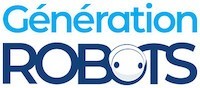 My Cart
0
item(s)
-
€0.00
There are no more items in your cart
An Arduino Bluetooth XBee module for a wireless serial connection
This Bluetooth SPP module communicates via a UART Bluetooth 2.0 interface. It connects to any XBee socket and offers three modes of use (Master, Slave and Loopback). This makes it significantly better than the HC-06 module, which works only in Slave mode. It is very easily connected to an Arduino board, and is powered by 5V with a 3.3V logic signal. For added safety, you can use a voltage divider bridge on your Arduino's TX pin to apply a 3.3V voltage to the module's RX pin.
Technical specifications of the HC-05 Bluetooth XBee Chip
CSR BC417 microprocessor
Fully qualified Bluetooth V2.0 EDR (enhanced data rate)
3 Mbps modulation
2.4 GHz radio transceiver
CSR Bluecore 04-External Single Chip Bluetooth system with CMOS technology and AFH (adaptive frequency hopping) function
Dimensions: 33.7 x 25.2 x 1.6 mm
Status indicator: power (PWR) state
Power supply: 3.3 Vdc
UART Bluetooth 2.0 interface
Complies with the RoHS standard
Resources for the HC-05 Bluetooth module
You'll find detailed explanations of your HC-05 Bluetooth XBee module below!
Customers who viewed this item also viewed