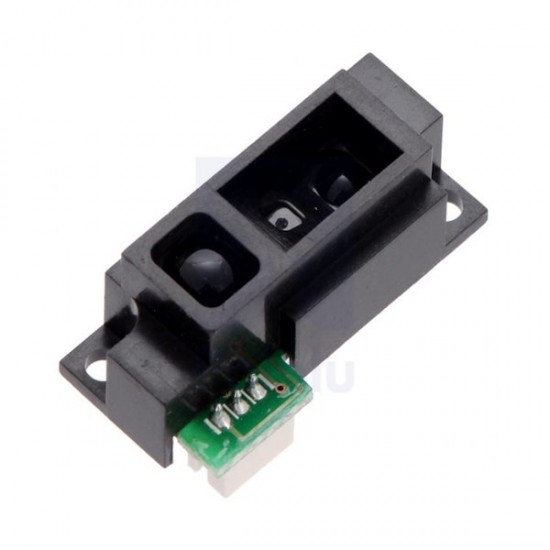 Sharp GP2Y0A51SK0F Analogue Distance Sensor 2-15 cm
The GP2Y0A51SK0F analogue distance sensor generates a precise measurement over short distances, with low current consumption.
Including €0.01 for ecotax
GP2Y0A51SK0F infrared sensor: a great intermediate choice
This analogue distance sensor offers 3 tangible benefits to the designers of projects requiring short distance measurements:
It's more accurate and efficient than many infrared sensors;

It's much more economical than sonar rangefinders;
It's compatible with most microcontrollers.
The GP2Y0A51SK0F sensor features a detection range of 2to 15 cm and can be connected to an analogue-to-digital converter, or to a comparator for threshold detection.
How do you connect your analogue distance sensor?
This sensor uses a 1.5 mm-pitch 3-pin JST ZH connector that works with a connection cable (not included), or you can solder three wires to the sensor where the connector pins are mounted, in the following order:
Red cable to the POWER pin

Black cable to the GND pin
White cable to the SIGNAL pin
Technical specifications of the 2450 analogue distance sensor



Detection range: 2 to 15 cm

Sampling rate: 60 Hz
Operating voltage: 4.5-5.5V
Supply current: 12 mA
Output type: analogue voltage
Output voltage differential: 1.65V
Compatible cable not supplied
Resources for the GP2Y0A51SK0F sensor
Check out the datasheet of the Sharp GP2Y0A51SK0F distance sensor
Customers who viewed this item also viewed