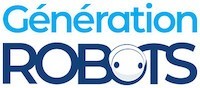 My Cart
0
item(s)
-
€0.00
There are no more items in your cart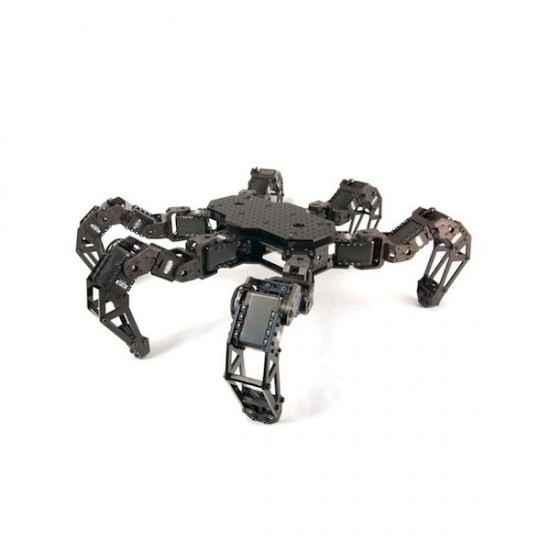 PhantomX AX Hexapod Mark III Kit (w/o servos)
Trossen Robotics |
A-000000-01732
The new PhantomX has arrived! Discover the latest addition to the Trossen Robotics line: a very robust construction kit enabling you to build your own mobile robot!
Including €0.92 for ecotax
PhantomX hexapod kit for AX servos: a solid base for your DIY robotics projects
The PhantomX hexapod kit from Trossen Robotics features exceptionally resistant Plexiglas components, 3 types of Bioloid frames, a 6-port power hub for AX and MX Dynamixel-series servos, nuts, bolts, and cables to connect your servos.
The platform is equipped with 6 fully articulated legs (that you'll need to assemble) offering 3 degrees of movement.
This robotics kit is very easy to assemble: afterwards, you'll be free to enhance your robot using your chosen microcontroller and a wide range of sensors and actuators. The hexapod is delivered with a platform enabling you to mount all the accessories you'll need to turn your robot into a mobile, interactive and smart creation… In short, a great creation!
What you need to know about the PhantomX kit for Dynamixel servos
The PhantomX kit presented here does not include any servos or electronic parts. In its extended version, it comes with Dynamixel AX-12A or AX-18A servos (compatible with the power hub and cables included in the kit) and all the ArbotiX electronic hardware you'll need.
You are free to add compatible servos and microcontrollers to your hexapod to create a fully customisable robot.
Technical specifications of the PhantomX hexapod
Hardware and body (barebones, no servos):
Body plates
Nuts and bolts
1.5 mm and 2.5 mm Hex screwdrivers
AX/MX power hub
6 x F1 Bioloid frames
12 x F2 Bioloid frames
6 x F3 Bioloid frames
3-pin Dynamixel cables
Electronics:
ArbotiX Robocontroller
11.1v 3S 4500mAh LiPo Battery and Wiring Harness
LiPo Balance Charger Starter Kit
USB A to Mini-B Cable

Plastic Safe Thread-Locker
Resources for the PhantomX AX Hexapod Mark III Kit (w/o servos)
We have collected together all the documentation on the PhantomX AX Hexapod Mark III Kit (w/o servos)
Customers who viewed this item also viewed