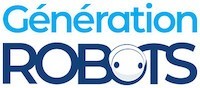 My Cart
0
item(s)
-
€0.00
There are no more items in your cart
Dynamixel XM430-W210-T Servo
Discover the Dynamixel XM430-W210-T servo, offering versatility, full control, a high transmission rate and a TTL interface.
Including €0.01 for ecotax
XM430-W210-T servo from Robotis: optimised at all levels
With its upgraded ergonomics to relief strain on the cables and avoid inserts, its streamlined energy consumption and its aluminium heat sink, the Dynamixel XM430-W210-T servo will delight robotics enthusiasts.
What's more, you'll have full control over speed, position, torque, trajectory, etc... PWM control included!
XM430-W210-T: a Dynamixel servo that's ready for anything
Suitable for all sorts of creations fitted with complex joints (articulated hands, robotic insects, humanoid robots, etc.), the XM430-W210-T servo offers various mounting options, being compatible with a great many assembly parts and many connection configurations.
This versatile, lightweight and energy-efficient servo is the perfect choice for your most elaborate robots!
Technical specifications of the 902-0125-000 actuator
Included with the Dynamixel XM430-W210-T servo:

1x HN12-N101 horn assembly
1x Teflon washer (for horn assembly)
1x 180 mm X4P cable
1x 180 mm X3P cable (convertible)
16x Wrench Bolt M2.5*4 screw
1x Wrench Bolt M2.5*6 screw
10x Wrench Bolt M2*3 screw
8x spacer ring

Specifications:

Weight: 82g
Dimensions: 28.5 × 46.5 × 34 mm
Reduction ratio: 212.6: 1
Starting torque (N.m): 2.7 @ 11.1V; 3 @ 12V; 3.7 @ 14.8V
Starting current (A): 2.1 @ 11.1V; 2.3 @ 12V; 2.7 @ 14.8V
No-load speed (RPM): 70 @ 11.1V; 77 @ 12V; 95 @ 14.8V
ST CORTEX-M3 processor (STM32F103C8 @ 72 MHz, 32 bit)
Absolute contactless encoder (12 bit, 360°)
Coreless motor
Resolution: 0.088° x 4,096
Operating range:
In position control mode: 360°
In speed control mode: endless rotation
Input voltage: 10~14.8V (recommended: 12V)
Operating temperature: -5 to 80°C
Control signal: digital packets
Protocol: half-duplex asynchronous serial communication (8 bit, 1 stop, no parity)
Physical connection: TTL multi-drop bus
Addresses: 253 IDs (0~252)
Transmission rate: 9,600 bps~4.5 Mbps
Feedback: position, velocity, current, real-time tick, trajectory, temperature, input voltage, etc.
Case in metal and engineering plastic
Metal gears
Standby current: 40 mA

Resources for the Dynamixel 902-0125-000 actuator
As usual, we've compiled for you all the information you need to know about the Dynamixel XM430-W210-T servo:
Data sheet
Serie

XM

Tension de fonctionnement [V]

10 - 14.8 V

Couple de décrochage [N-m]

3 - 4.9

Courant de décrochage [A]

2 - 2.4 A

Vitesse à vide [rpm]

70 - 79

Protocole de communication

TTL
---

The motor is probably not well mounted. Check that you correctly mounted the horns by respecting the mark.

---

---

Check your power supply and the system cabling (try with a different servomotor). You can also reset the servo. If nothing works, the best solution is to go through the Dynamixel servomotor checklist!

---

The 1.0 protocol is dedicated to the Dynamixel AX and MX series. Protocol 2.0 is for the X and Dynamixel Pro series. Protocol 2.0 control tables include PID controls which allow for more precise adjustment of the servo motor movements. Protocol 2.0 can be updated on MX series servo motors. You can refer to the protocol 1.0 and protocol 2.0 pages for more informations.

---
Customers who viewed this item also viewed