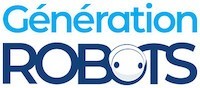 My Cart
0
item(s)
-
€0.00
There are no more items in your cart
FR12-S102K - frame for Dynamixel XM430
The new Dynamixel servo has arrived, and Robotis has developed a whole series of structural component sets so you can mount your XM-430 without mishap. The FR12-S102K set is one of them.
Dynamixel FR12-S102K structural components: another way of fixing your XM-430
The new Dynamixel XM-430-series servos require specific Dynamixel components. With the FR12-S102K set, you can mount them in a slightly different way than with the FR12-H101K set: you can fix the structural components on the underside of the XM-430 servo.
Technical specifications of the FR12-S102K set
The FR12-S102K set contains:
1 FR12-S102K frame
4 Bolt FHS M2.5x14 screws
10 Wrench Bolt M2×3 screws
8 Wrench Bolt M2.5×4 screws
10 spacer rings
Customers who viewed this item also viewed