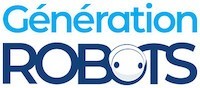 My Cart
0
item(s)
-
€0.00
There are no more items in your cart



has all it takes to move your mobile robot up a gear!
With its 4 mm diameter output shaft, its quadrature encoders (3.3 and 5 V) and its steel gears, the Wild Thumper 6V 75:1 DC Robot Motor is a robust addition to your mobile robot both outdoors and in. In addition, it is reverse-polarity protected to avoid accidents.
6V 75:1 DC Motor: for a truly mobile Wild Thumper robot
The RS003A DC motor can be fitted to the Wild Thumper mobile educational platforms from Dagu to achieve over 10,000 rpm! Ideal for creating real patrol or security robots by combining a Wild Thumper chassis with this sturdy, efficient DC motor.
Technical specifications of the Wild Thumper 6V 75:1 DC Robot Motor
Current (unloaded): 350 mA
Stall torque: 8.8 kg/cm
Motor rpm: 10,000 ± 5%
Voltage: 6 V nominal (7.5 V max.)
Gear ratio: 75:1
Shaft rpm: 133
Stall current: 5.5 A
Weight: 92 g
Dimensions :

Length (with shaft): 68 mm
Motor diameter: 25 mm
Shaft diameter: 4 mm
Shaft length: 10 mm
Customers who viewed this item also viewed