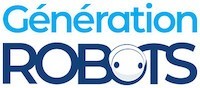 My Cart
0
item(s)
-
€0.00
There are no more items in your cart
Me Ultrasonic Sensor v3
Makeblock |
A-000000-04100
The Me Ultrasonic Sensor v3 is the new and improved version of the Makeblock v2. More stable and more efficient, it comes with a complete Arduino library.
Including €0.01 for ecotax
Makeblock Ultrasonic Sensor v3: a simple module for detecting obstacles
The Me Ultrasonic Sensor v3 is the new version of the Makeblock ultrasonic sensor. It can detect obstacles located at a distance of between 3 cm and 4 m. A free Arduino library provides direct access to performed measurements.
Using this Makeblock ultrasonic sensor couldn't be simpler, as it has a single digital port (shown in yellow) that you can connect directly to the yellow port of the Orion Makeblock board. Its 6-pin RJ25 wiring interface makes connections simpler. You will also find 3 mounting holes compatible with the metal Makeblock beams.
Technical specifications of the Makeblock ultrasonic sensor
Comes with its own Arduino code library
Easy wiring with a 6-pin RJ25 interface
Compatible with the Me Base Shield and Me Baseboard
2.54 mm breakout pins for connecting with jumper wires
16 mm interval M4 mounting holes, compatible with Makeblock beams
On-board indicator LEDs for debugging and feedback
Detection range: 3 cm to 4 m
Margin of error: less than 1 cm
Measurement angle: 30°
Ultrasonic frequency: 42 kHz
Operating voltage: 5 Vdc
Dimensions: 56 x 36 x 31 mm
Weight: 22 g
Resources for the Arduino ultrasonic sensor
This Me Ultrasonic Sensor v3 can be programmed easily using the Arduino library provided below!
Customers who viewed this item also viewed