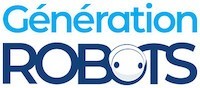 My Cart
0
item(s)
-
€0.00
There are no more items in your cart
Dynamixel XH540-W270-T Servo Motor
The Dynamixel XH540-W270-T servo motor generates one of the most powerful torque in the Dynamixel X series. It offers all the advantages of Robotis XH servos in terms of high-quality design and control modes–plus a TTL interface.
Including €0.10 for ecotax
Dynamixel XH540-W270-T servo motor: a powerful TTL version
With a 9.9 Nm starting torque and a 272.5:1 reduction ratio, the Dynamixel XH540-W270-T servo motor is making a name for itself as one of the most powerful actuators in its class. Similar to the XH540-W270-R model in terms of performance, this servo offers for its part a multidrop bus TTL interface.
Particularly well suited for building mobile robots meant to explore rough terrain, this Dynamixel servo also stands out for its numerous programming possibilities. You'll benefit from 6 control modes, including in PWM mode, which will delight fans of radio-controlled vehicles. You can connect it directly to a PC using a U2D2 Dynamixel module or an Arduino microcontroller (or any compatible controller) thanks to the provided JST-Molex cable.
Dynamixel XH series servo motors: extreme manufacturing quality
The programmable servos in the Dynamixel XH range benefit from a high-quality design in many ways:
The gold-plated JST connector ensures more reliable and stable communications than a Molex connector;
The precious metal and engineering plastic casing delivers very satisfactory heat dissipation;
3 different arrangements are possible for the cable at the back of the case, and numerous assembly configurations are possible thanks to a wide range of compatible frames.
Technical specifications of the XH540-W270-T servo
Cortex M3 microcontroller (72 MHz, 32 bits)
Input voltage: 10 -14.8V (recommended: 12V)
Performance characteristics

Voltage rating: 12V
Starting torque: 9.9 Nm
Starting current: 4.9A
No-load speed: 39 rpm
No-load current: 0.07A
Resolution: 0,0879° x 4,096

Angle: 360°
Reduction ratio: 272.5:1
Position sensor: absolute contactless encoder (12 bits, 360°)
Operating temperature: -5 to 80°C
Coreless Maxon motor
Baud rate: 9,600–4,500,000 bps
PID control algorithm
Gear type: straight spur
Gear material: precious metal
Case material: precious metal and engineering plastic
Dimensions: 33.5 x 58.5 x 44 mm
Weight: 165 g
Control signal: digital packets
Protocol: half-duplex asynchronous serial communication (8 bits, 1 stop, no parity)
Connection: TTL multi-drop bus
IDs: 0~252
Feedback: position, velocity, current, realtime tick, trajectory, temperature, voltage, external port, etc.
Protocol version: 1.0, 2.0 (default)
Operating mode/angle:

Position control mode: endless turn
Velocity control mode: endless turn
Position control mode: 360°
Extended position control mode: +/- 256 revolutions
Current-based position control mode: +/- 256 revolutions
PWM control mode: endless turn

Standby current: 40 mA

Resources for the Robotis Dynamixel XH540-W270-T servo
To make the most of all the possibilities offered by the Dynamixel XH540-W270-T servo motor, review these useful links:
Data sheet
Serie

XH

Tension de fonctionnement [V]

10 - 14.8 V

Couple de décrochage [N-m]

9

Courant de décrochage [A]

4.5

Vitesse à vide [rpm]

30 - 39

Protocole de communication

TTL
---

The motor is probably not well mounted. Check that you correctly mounted the horns by respecting the mark.

---

---

Check your power supply and the system cabling (try with a different servomotor). You can also reset the servo. If nothing works, the best solution is to go through the Dynamixel servomotor checklist!

---

The 1.0 protocol is dedicated to the Dynamixel AX and MX series. Protocol 2.0 is for the X and Dynamixel Pro series. Protocol 2.0 control tables include PID controls which allow for more precise adjustment of the servo motor movements. Protocol 2.0 can be updated on MX series servo motors. You can refer to the protocol 1.0 and protocol 2.0 pages for more informations.

---
Customers who viewed this item also viewed